The Girl Who Fell from the Sky (Paperback)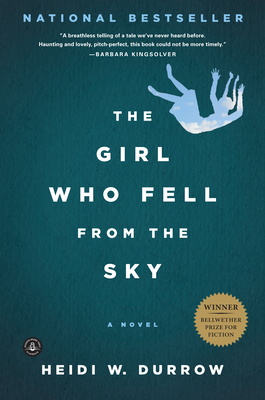 $16.95

Usually Arrives in 3-5 Days
Description
---
"The Girl Who Fell from the Sky can actually fly." —The New York Times Book Review
 
Rachel, the daughter of a Danish mother and a black G.I., becomes the sole survivor of a family tragedy after a fateful morning on their Chicago rooftop.

Forced to move to a new city, with her strict African American grandmother as her guardian, Rachel is thrust for the first time into a mostly black community, where her light brown skin, blue eyes, and beauty bring a constant stream of attention her way. It's there, as she grows up and tries to swallow her grief, that she comes to understand how the mystery and tragedy of her mother might be connected to her own uncertain identity.

This searing and heart-wrenching portrait of a young biracial girl dealing with society's ideas of race and class is the winner of the Bellwether Prize for best fiction manuscript addressing issues of social justice.
About the Author
---
A graduate of Stanford University, Columbia University's Graduate School of Journalism, and Yale Law School, Heidi W. Durrow has received grants from the New York Foundation for the Arts, the American Scandinavian Foundation, and the Lois Roth Endowment and a Fellowship for Emerging Writers from the Jerome Foundation. Her writing has been published in Alaska Quarterly Review, the Literary Review, and others.
Praise For…
---
"An auspicious debut . . . [Durrow] has crafted a modern story about identity and survival."
—Washington Post
 
"The Girl Who Fell from the Sky can actually fly. . . Its energy comes from its vividly realized characters, from how they perceive one another. Durrow has a terrific ear for dialogue, an ability to summon a wealth of hopes and fears in a single line."
—The New York Times Book Review
 
"A heartbreaking debut . . . keeps the reader in thrall."
—Boston Globe
 
"[An] affecting, exquisite debut novel . . . Durrow's powerful novel is poised to find a place among classic stories of the American experience."
—Miami Herald
 
"Hauntingly beautiful prose . . . Exquisitely told . . . Rachel's tale has the potential of becoming seared in your memory."
—Dallas Morning News
 
"Rachel's voice resonated in my reading mind in much the same way as did that of the young protagonist of The House on Mango Street. there's an achingly honest quality to it; both wise and naive, it makes you want to step between the pages to lend comfort." 
—NPR's Morning Edition
 
"Stunning . . . What makes Durrow's novel soar is her masterful sense of voice, her assured, nuanced handling of complex racial issues—and her heart." 
—The Christian Science Monitor
 
"The Girl Who Fell from the Sky is that rare thing: a post-postmodern novel with heart that weaves a circle of stories about race and self-discovery into a tense and sometimes terrifying whole."
—Ms.
 

"An auspicious debut . . . [Durrow] has crafted a modern story about identity and survival." --Washington Post
—Miami Herald

"The Girl Who Fell from the Sky can actually fly. . . Its energy comes from its vividly realized characters, from how they perceive one another. Durrow has a terrific ear for dialogue, an ability to summon a wealth of hopes and fears in a single line." --The New York Times Book Review
—Dallas Morning News

"A heartbreaking debut . . . keeps the reader in thrall." --Boston Globe
—NPR's Morning Edition

"[An] affecting, exquisite debut novel . . . Durrow's powerful novel is poised to find a place among classic stories of the American experience." --Miami Herald
—The Christian Science Monitor

"Hauntingly beautiful prose . . . Exquisitely told . . . Rachel's tale has the potential of becoming seared in your memory." --Dallas Morning News
—The New York Times Book Review

"Rachel's voice resonated in my reading mind in much the same way as did that of the young protagonist of The House on Mango Street. there's an achingly honest quality to it; both wise and naive, it makes you want to step between the pages to lend comfort." —Ms. Magazine

"Stunning . . . What makes Durrow's novel soar is her masterful sense of voice, her assured, nuanced handling of complex racial issues—and her heart."

"The Girl Who Fell from the Sky can actually fly . . . Its energy comes from its vividly realized characters . . . Durrow has a terrific ear for dialogue, an ability to summon a wealth of hopes and fears in a single line."

"An auspicious debut . . . [Durrow] has crafted a modern story about identity and survival."

"The Girl Who Fell from the Sky is that rare thing: a post-postmodern novel with heart that weaves a circle of stories about race and self-discovery into a tense and sometimes terrifying whole."

Coverage from NPR