The Second Mrs. Hockaday: A Novel (Hardcover)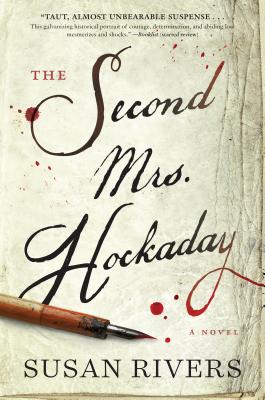 Staff Reviews
---
Kate says: Beautifully written and well researched. Rivers keeps you captivated at every turn.
— From
Kate Recommends
Description
---
SHORTLISTED FOR THE CENTER FOR FICTION FIRST NOVEL PRIZE

"Taut, almost unbearable suspense . . . This galvanizing historical portrait of courage, determination, and abiding love mesmerizes and shocks." —Booklist (starred review)

"All I had known for certain when I came around the hen house that first evening in July and saw my husband trudging into the yard after lifetimes spent away from us, a borrowed bag in his hand and the shadow of grief on his face, was that he had to be protected at all costs from knowing what had happened in his absence. I did not believe he could survive it."

When Major Gryffth Hockaday is called to the front lines of the Civil War, his new bride is left to care for her husband's three-hundred-acre farm and infant son. Placidia, a mere teenager herself living far from her family and completely unprepared to run a farm or raise a child, must endure the darkest days of the war on her own. By the time Major Hockaday returns two years later, Placidia is bound for jail, accused of having borne a child in his absence and murdering it. What really transpired in the two years he was away?

Inspired by a true incident, this saga conjures the era with uncanny immediacy. Amid the desperation of wartime, Placidia sees the social order of her Southern homeland unravel as her views on race and family are transformed. A love story, a story of racial divide, and a story of the South as it fell in the war, The Second Mrs. Hockaday reveals how that generation--and the next--began to see their world anew.
About the Author
---
Susan Rivers was awarded the Julie Harris Playwriting Award for Overnight Lows and the New York Drama League Award for Understatements. She is also the recipient of two playwriting grants from the National Endowment for the Arts and has had short fiction published in the Santa Monica Review. In 2007 she earned an MFA in fiction writing from Queens University of Charlotte in North Carolina, where she was also awarded a Regional Artist Grant from the Arts and Sciences Council. She currently lives and writes in a small town in upstate South Carolina. The Second Mrs. Hockaday is her first novel.
Praise For…
---
A January Indie Next Pick
A January LibraryReads Selection

"Suspenseful and satisfying."
─People magazine

"This page-turner, set in the Civil War South, is meticulously researched and beautifully written."
—Woman's Day

"A fascinating tale."
—New York Post
 
"…mesmerizing…. [Rivers'] masterful prose captures the nuances of Southern mid-19th century diction. Each patiently unspooled revelation feels organic, urgent and essential to its form. Placidia's voice is penetrating and her observations about the singular truths of war are vivid and illuminating."
─Atlanta Journal-Constitution
 
"Spellbinding."
─Charlotte Observer
 
"Brilliant . . . As the novel develops, Rivers intensifies the mystery and suspense even as she portrays the reality of how the innocent bride became the determined woman struggling to survive as her world is all but destroyed. Rivers accomplishes all of this by expertly crafting an unusual epistolary novel. Rivers' deft development of the mystery keeps you reading; her portrayal of life in the South Carolina hills when the men were away at war makes the story even more powerful."
─Greensboro News & Record
 
"The psychological and physical tolls of war, especially on women, come alive in Rivers' novel in the piteous yet gritty woman who is the second Mrs. Hockaday."
─Roanoke Times
 
"With language evocative of the South ('craggy as a shagbark stump') and taut, almost unbearable suspense, dramatized by characters readers will swear they know, this galvanizing historical portrait of courage, determination, and abiding love mesmerizes and shocks. Similar in tone and descriptive flow to Charles Frazier's Cold Mountain (1997) and with the compelling narratives found in Robert Hicks' The Widow of the South (2005)."
─Booklist, starred review
 
"If this book is any indicator, Rivers is a promising talent and an adroit storyteller. Hopefully, this won't be her only foray into fiction. A compulsively readable work that takes on the legacy of slavery in the United States, the struggles specific to women, and the possibilities for empathy and forgiveness."
─Kirkus Reviews
 
"A stirring Civil War–era version of The Scarlet Letter. Told through gripping, suspenseful letters, court documents, and diary entries, Rivers's story spans three decades to show the rippling effects of buried secrets, when the Hockadays and future generations must learn to overcome the damage this secret and the war have done to all the families involved."
─Publishers Weekly
 
"In The Second Mrs. Hockaday, Rivers gives readers an illuminating glimpse into a part of our country's past that still has repercussions in the present."
─Bookpage
 
"Fans of Geraldine Brooks's Year of Wonders and Sarah Blake's The Postmistress will enjoy this solid historical novel, which is also a good choice for book clubs, as Dia's motivations for her actions will yield great discussions."
─Library Journal

"Rivers has masterfully told a story of the loss of human innocence as well as the forgiveness and understanding it takes to survive in a cold and unfair world. Each entry in the novel is captivating, pulling at the reader's heartstrings with moments of bliss and heartbreak, while also teasing them with small doses of details with the promise of a satisfying reveal. Rivers shows us a world past that rings true to the readers of today, a world in which circumstances are more than they first appear, the ties of loyalty are strong, and all acts of courage are great — no matter the size."
—The Clarion-Ledger (Jackson, MS)
 
"I gobbled this book up in one in luscious sitting, wishing I could slow down and savor the prose but too eager to find out what happened. Rivers is an unflinching truth teller. Her characters are deeply human, drawn with compassion and exquisite detail."
─Hillary Jordan, author of Mudbound
 
"Susan Rivers sets this spellbinding, haunting human drama against the backdrop of the Civil War. Told through exquisitely crafted letters and diary entries, the delicious pacing leads to revelations both intriguing and unnerving. I was sorry to reach the end of this stunning debut."
─Diane Chamberlain, author of The Silent Sister
 
"With the Second Mrs. Hockaday, Susan Rivers viscerally evokes a bygone era without sentimentality. Her deeply sympathetic characters cope with the hard truths of slavery and war, maintaining their humanity and capability for redemption throughout. A thoroughly engrossing and affecting read. "
—Alice LaPlante, author of A Circle of Wives
 
"Lyrically and believably written . . . The dialogue, as one might expect from a playwright, is flawless . . . The book burns brightly because Rivers has created in her young heroine a beacon of innate courage and moral clarity which challenges us all to locate these traits in ourselves."
—Chapter 16

"A compulsively readable debut novel about love by an accomplished playwright. Nobody else can write an unputdownable historical and mystery novel at the same time like Rivers."
—Washington Book Review
 
"A powerful story of the depths to which the human spirit can sink and still be able to survive."
—Charleston Currents
 
"A provocative, fascinating novel that reveals much about human nature — the will to survive is almost unbreakable — and about the devastations of war on the home front . . . revealing, well written and intriguing . . .  a remarkable journey, with characters who will live long in your mind."
—Salisbury Post (Salisbury, NC)