Kaijumax Book Two: Deluxe Edition (Hardcover)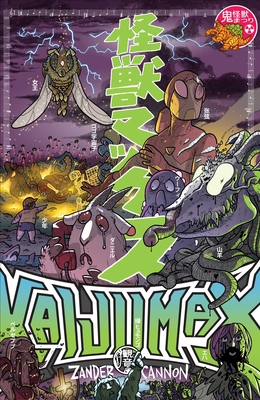 $59.99
Usually Arrives in 3-5 Days
Description
---
Come for the monsters, stay for the emotional turmoil in the second deluxe hardcover collection of the critically acclaimed Kaijumax series from Zander Cannon!

IT RETURNS! Thought destroyed after a pitched battle above the Tokyo skyline, it rises once more from the depths: The KAIJUMAX KAIJU-SIZED DELUXE HARDCOVER VOLUME 2! Collecting the complete seasons 3 and 4 in oversized full-color glory, this is the second mighty tome of the most epic, pitch-black, candy-colored -- and critically acclaimed -- kaiju prison comic in the galaxy. Follow Electrogor, Dr. Zhang, Whoofy, Go-Go Space Baby, Hellmoth, Jin-Wook Jeong, Torgax, Celestial Guardian Go!, Daniel, Victoria Von Vilestra, Li'l Boy, The Sharkmon of Kaijumax and many, many more as species tensions, relationship strife, gang loyalty, prison childbirth, and the crimes of the past explode across the pound of the world's most terrifying monster prison complex. Sharpen the hull of a ship into a shank! Stockpile some addictive uranium and smog to barter with! Thicken your carapace! And know who your friends are, because it's anything goes once you're deep within the forcefields of KAIJUMAX!
About the Author
---
Since 1993, Zander Cannon has written and drawn comics about gods, robots, astronauts, police officers, paleontologists, aliens, feng shui masters, superheroes, and monsters. He lives in Minnesota with his strong wife, Julie, and above-average son, Jin.