What Doesn't Kill Us: How Freezing Water, Extreme Altitude, and Environmental Conditioning Will Renew Our Lost Evolutionary Strength (Hardcover)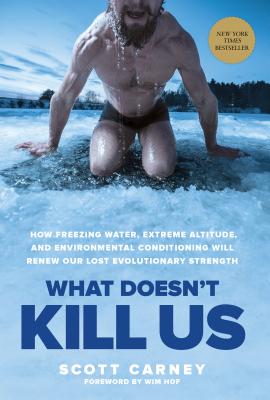 Description
---
What Doesn't Kill Us, a New York Times bestseller, traces our evolutionary journey back to a time when survival depended on how well we adapted to the environment around us.

Our ancestors crossed deserts, mountains, and oceans without even a whisper of what anyone today might consider modern technology. Those feats of endurance now seem impossible in an age where we take comfort for granted. But what if we could regain some of our lost evolutionary strength by simulating the environmental conditions of our ancestors?

Investigative journalist and anthropologist Scott Carney takes up the challenge to find out: Can we hack our bodies and use the environment to stimulate our inner biology? Helping him in his search for the answers is Dutch fitness guru Wim Hof, whose ability to control his body temperature in extreme cold has sparked a whirlwind of scientific study. Carney also enlists input from an Army scientist, a world-famous surfer, the founders of an obstacle course race movement, and ordinary people who have documented how they have cured autoimmune diseases, lost weight, and reversed diabetes. In the process, he chronicles his own transformational journey as he pushes his body and mind to the edge of endurance, a quest that culminates in a record-bending, 28-hour climb to the snowy peak of Mt. Kilimanjaro wearing nothing but a pair of running shorts and sneakers.

An ambitious blend of investigative reporting and participatory journalism, What Doesn't Kill Us explores the true connection between the mind and the body and reveals the science that allows us to push past our perceived limitations.
About the Author
---
Scott Carney is an investigative journalist and anthropologist whose stories blend narrative non-fiction with ethnography. His reporting has taken him to some of the most dangerous and unlikely corners of the world. The New York Times says "Carney writes with considerable narrative verve, slamming home the misery of what he has witnessed with passion and visceral detail." He has been a contributing editor at Wired and his work also appears in Mother Jones, Foreign Policy, Playboy, Details, Discover, Outside, and Fast Company. He lives in Denver, CO.
Praise For…
---
Climbing a mountain in nothing but a pair of shorts seems idiotic to most, but for Wim Hof and his companions, it's just another day. When investigative journalist and anthropologist Carney heard about Hof's mind-boggling methods and claims that he could "hack" the human body, he knew he had to venture to Poland to expose this fraud. But in just a few days, Hof changed Carney's mind, and so began a friendship and a new adventure. Carney now chronicles his journey to push himself mentally and physically using Wim Hof's method of cold exposure, breath-holding, and meditation to tap into our primal selves. Our ancestors survived harsh conditions without modern technology, while we live in comfortable bubbles with little to struggle against and wonder how they survived. The question is, What happens when we push our bodies to the limit? Carney calls on evolutionary biology and other modern scientific disciplines to explore and explain Hof's unconventional methods. Fresh and exciting, this book has wide appeal for readers interested in health, sports, self-improvement, and extreme challenges.
—Booklist

As this engaging autoethnography relates, anthropologist and investigative journalist Carney was skeptical upon encountering a photo of a nearly naked Wim Hof sitting on a glacier in the Arctic Circle. Hof, a Dutch fitness guru who runs a training camp in Poland's wilderness, claims he can control his body temperature and immune system solely with his mind; though Carney set out to prove Hof a charlatan, he was instead won over. Carney documents his interactions with Hof and the many others who have learned to control their bodies in seemingly impossible ways: he learned Hof's breathing techniques for tricking the body into doing things it isn't evolutionarily designed for, and underwent training to face extreme cold while barely clothed. It is this training that enables Hof and Carney to summit Mt. Kilimanjaro in 28 hours while wearing shorts. This is part guide and part popular science book; readers will learn about how Neanderthals used the body's "brown fat" to keep warm and how exposure nearly reverses the symptoms of diabetes. The accomplishments Carney documents are unbelievable and fascinating; this isn't a how-to for those looking to perform extraordinary feats, but it is an entertaining account that will appeal to the adventurous.
—Publishers Weekly

On the heels of the paleo diet comes a new claim: taking on the physical challenges of the environment faced by our prehistoric ancestors can undo what easy calories and effortless comfort have done to our bodies—made them fat, lazy, and weak.

In his latest book, investigative journalist and anthropologist Carney (A Death on Diamond Mountain: A True Story of Obsession, Madness, and the Path to Enlightenment, 2015, etc.) expands on his 2014 Playboy piece, "The Iceman Cometh," in which he profiled Dutch fitness guru Wim Hof and experienced Hof's strenuous training methods, some of which involve exposing the near-naked body to snow and icy water. At first skeptical, Carney became convinced by the changes he experienced in his own body. The narrative is filled with personal details that will engage, astonish, and even repel readers. Expanding on his unnerving close-up account, the author also examines the research being done on the role of brown adipose tissue in the body and a variety of military and sports medicine training practices. He cites the anecdotal evidence of people who have placed their faith in Hof and are convinced that his techniques have changed, if not saved, their lives—e.g., sufferers of Parkinson's disease, Crohn's disease, and rheumatoid arthritis. As a climax to his account, Carney describes how, stripped to the waist, he accompanied Hof on a climb to the summit of Mount Kilimanjaro, Africa's highest peak. In the epilogue, the author asserts that his experiences showed him that "exposure to cold helps reconfigure the cardiovascular system, combat autoimmune malfunctions, and is a pretty darned good method to simply lose weight." Hof provides the book's foreword.

Couch potatoes take warning: the experiences described in this testimonial are often tough to read about, and the conclusions, while sometimes convincing, might best be taken with a touch of skepticism.
—Kirkus

"Scott Carney is so curious about getting to the truth of things that he is willing to endure great pain and suffering to get there. While investigating the controversial methods of Wim Hof and others operating on the scientific fringe, Carney entered a skeptic yet emerged a true believer. In What Doesn't Kill Us, readers get to follow him along on his transformational journey, and the insights are truly fascinating. Informative, fun, and with a healthy degree of danger, this is a book for the adventurer in all of us."
—Gabrielle Reece, co-founder, XPT (Extreme Performance Training)

"The further we get from the harsh environmental conditions that once threatened our existence, the more we need them. I see this every weekend at a Spartan Race somewhere in the world. Millions of otherwise sane people line up to suffer and push themselves to their physical limits, and it feels good. What Doesn't Kill Us is a fascinating investigation into the innate urge that drives people like these, and reveals how some have managed to use environmental conditioning to accomplish truly extraordinary things."
—Joe DeSena, founder, Spartan Race

"As a Navy SEAL, you live by the mantra, 'what doesn't kill us only makes us stronger.' We would hear this phrase and repeat it, but we never had any proof that it was factual. Yet through comprehensive study, Scott Carney has brilliantly documented how engaging in environmental conditioning, breathing, meditation, and other techniques can actually make us physically and mentally stronger. What Doesn't Kill Us is a fascinating book that will captivate all who read it and that will be of immense value to those in the military, those who are active in sports, and those who seek an alternate means of developing greater mental and physical strength."
—Don D. Mann, New York Times bestselling author, Inside SEAL Team SIX

"Damn fun and extremely well-researched, What Doesn't Kill Us is a great addition to the canon of high performance literature!"
— Steven Kotler, New York Times bestselling author of Abundance and The Rise of Superman

"When it's cold outside, do you turn the heating up? Do you always put a coat on before going out? Do you think your comfortable life is good for you? If so, you have to read Scott Carney's What Doesn't Kill Us. Through some great stories — which often involve Carney trudging through snow without much on — and some serious research, he shows us how to escape the bland, shuffling gait of our centrally-heated, fleece-jacketed, molly-coddled lives by diving head-first into the ice-cold, axe-sharp, scary experiences that made our ancestors' hearts beat faster every day. If we do that, we can awaken from the dull slumber of modern life and open our eyes to a better, healthier dawn of crisp air, better circulation, and the ability to truly mean it when we say: I'm alive. Buy this book, and you'll emerge a stronger, healthier, more human human."
— James Wallman, author of Stuffocation
Coverage from NPR