All Our Yesterdays (Paperback)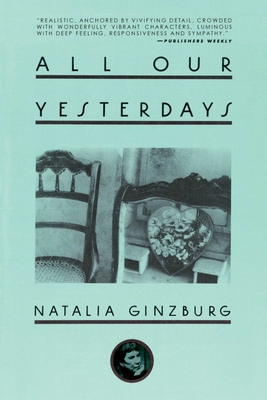 $15.99

Usually Arrives in 3-5 Days
Description
---
From "one of the most distinguished writers of modern Italy" (New York Review of Books), a classic novel of society in the midst of a war.

This powerful novel is set against the background of Italy from 1939 to 1944, from the anxious months before the country entered the war, through the war years, to the allied victory with its trailing wake of anxiety, disappointment, and grief. In the foreground are the members of two families. One is rich, the other is not. In All Our Yesterdays, as in all of Ms. Ginzburg's novels, terrible things happen—suicide, murder, air raids, and bombings. But seemingly less overwhelming events, like a family quarrel, adultery, or a deception, are given equal space, as if to say that, to a victim, adultery and air raids can be equally maiming. All Our Yesterdays gives a sharp portrait of a society hungry for change, but betrayed by war.

During the period described in the novel, Natalia Ginzburg was married to the writer Leone Ginzburg. Because of his underground activities, he was interned under Mussolini's reign, along with his family, in a restricted area in the Abruzzi. When the Ginzburgs later moved to Rome, Leone was arrested and tortured by the fascists, and killed, leaving Natalia alone to raise her three children.

Skyhorse Publishing, as well as our Arcade, Yucca, and Good Books imprints, are proud to publish a broad range of books for readers interested in fiction—novels, novellas, political and medical thrillers, comedy, satire, historical fiction, romance, erotic and love stories, mystery, classic literature, folklore and mythology, literary classics including Shakespeare, Dumas, Wilde, Cather, and much more. While not every title we publish becomes a New York Times bestseller or a national bestseller, we are committed to books on subjects that are sometimes overlooked and to authors whose work might not otherwise find a home.
About the Author
---
Natalia Ginzburg was born in Palermo, Italy in 1916. She was an Italian author whose work explored family relationships, politics during and after the Fascist years and World War II, and philosophy. She wrote novels, short stories, and essays, for which she received the Strega Prize and Bagutta Prize. Modest and intensely reserved, Ginzburg never shied away from the traumas of history, whether writing about the Turin of her childhood, the Abruzzi countryside, or contemporary Rome—all the while approaching those traumas only indirectly, through the mundane details and catastrophes of personal life. Most of her works were also translated into English and published in the United Kingdom and United States. She wrote acclaimed translations of both Proust and Flaubert into Italian. She died in Rome in 1991.

Angus Davidson was known primarily for his work as a translator and publisher and was associated with the circle of artists, writers and intellectuals known as the Bloomsbury Group. He translated the works of Alberto Moravia and Mario Praz, and wrote an innovative biography of Edward Lear that focused on his achievements as an artist.
Praise For…
---
Praise for Natalia Ginzburg's work

"One of the Great Italian Writers of the 20th Century."—The New York Times

"Clarity, precision and wit mark the work of Natalia Ginzburg." — The New York Times Book Review

"Ginzburg [was] famous for her ability to conjure up a mixed emotional atmosphere, poignant yet unsentimental." —The New Yorker

"A glowing light of modern Italian literature . . . Ginzburg's magic is the utter simplicity of her prose, suddenly illuminated by one word that makes a lightning streak of a plain phrase. . . . As direct and clean as if it were carved in stone, it yet speaks thoughts of the heart." — The New York Times Book Review

"I wish more people would read the Italian writer Natalia Ginzburg." — Mary Gordon, Mother Jones

"Natalia Ginzburg must surely be one of literature's most provocative and moving writers." — Elle magazine

"Realistic, anchored by vivifying detail, crowded with wonderfully vibrant characters, luminous with deep feeling, responsiveness, and sympathy." — Publishers Weekly

"Ginzburg draws her readers into her deceptively charming essays with cascades of alluring, everyday detail, then stealthily broaches moral questions of great weight and complexity. Wryly witty, acutely observant, and unfailingly valiant, Ginzburg is a revelation, a spur, and a joy." — Booklist

Praise for The Little Virtues:

"A stunning tour de force, The Little Virtues is a credo of undaunted idealism." — The New York Times Book Review

"There is one book . . . which has meant more to me than any other: The Little Virtues, by the Italian novelist, essayist, playwright, short-story writer, translator, and political activist Natalia Ginzburg." — The New Yorker Sept. 2016

"The book that taught me what I want to teach my daughter." — Belle Boggs, author of Mattaponi Queen

"Considered among the best writers in contemporary Italy, Ginzburg should appeal to a wide American audience with this collection of essays." — Publishers Weekly

"These little virtues then, this little book, pack a tremendous punch. By loving life, Ginzburg suggests, by working with love and enthusiasm, by embracing the homeliest details of daily existence with astonishment and joy, we may legitimately hope to conquer—or at least break even against—the worldly and leaden forces of materialism and fear." — LA Times

"Natalia Ginzburg, a glowing light of modern Italian literature, should be more widely read and fervidly known by American readers." —The New York Times Book Review

"Natalia Ginzburg must surely be one of literature's most provocative and moving writers." —Elle magazine