Kitty Genovese: A True Account of a Public Murder and Its Private Consequences (Paperback)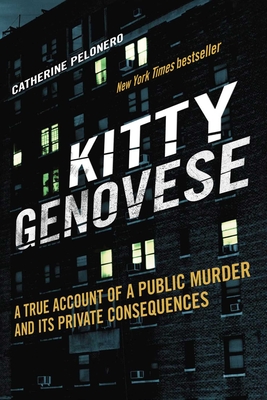 $16.99

Usually Arrives in 3-5 Days
Description
---
A New York Times bestseller!

Written in a flowing narrative style, Kitty Genovese: A True Account of a Public Murder and Its Private Consequences presents the story of the horrific and infamous murder of Kitty Genovese, a young woman stalked and stabbed on the street where she lived in Queens, New York, in 1964. The case sparked national outrage when the New York Times revealed that dozens of witnesses had seen or heard the attacks on Kitty Genovese and her struggle to reach safety but had failed to come to her aid—or even call police until after the killer had fled.

This book, first published in 2014 and now with a new afterword, cuts through misinformation and conjecture to present a definitive portrait of the crime, the aftermath, and the people involved. Based on six years of research, Catherine Pelonero's book presents the facts from police reports, archival material, court documents, and firsthand interviews. Pelonero offers a personal look at Kitty Genovese, an ambitious young woman viciously struck down in the prime of her life; Winston Moseley, the killer who led a double life as a responsible family-man by day and a deadly predator by night; the consequences for a community condemned; and others touched by the tragedy.

Beyond just a true-crime story, the book embodies much larger themes: the phenomenon of bystander inaction, the evolution of a serial killer, and the fears and injustices spawned by the stark prejudices of an era, many of which linger to this day.
About the Author
---
Catherine Pelonero is a true crime author and commentator. Her book Kitty Genovese: A True Account of a Public Murder and Its Private Consequences became a New York Times bestseller. She is a contributing writer for Investigation Discovery's CrimeFeed and has appeared on episodes of A Crime to Remember and Fox Files, among others. She lives in Los Angeles, California.
Praise For…
---
"[Pelonero takes] pains to present a fully-realized portrait of Kitty so that readers won't forget that she was a person, not a player in an anecdote. . . . One comes away with a deeper appreciation of the personal turmoil suffered by Kitty's friends and family as well as the depth of Moseley's depravity."— Boston Globe

"The definitive account of a dark moment in US History, at once richly detailed, deeply humane, and profoundly compelling...Pelonero's book will leave you moved and enlightened."- Adam Alter, author of Drunk Tank Pink

"Catherine Pelonero has consulted all the original files and tracked down every surviving participant for her definitive analysis of the case. Reading her pages evokes anger and anguish in equal measure."— The Advocate

"Pelonero… [gets] readers thinking about gender as a crucial key to the puzzle." — The Nation

"If you only read one true crime book this year, I highly recommend it's this one."
— Fiona Guy, Crime Bookshelf

"[Pelonero takes] pains to present a fully-realized portrait of Kitty so that readers won't forget that she was a person, not a player in an anecdote. . . . One comes away with a deeper appreciation of the personal turmoil suffered by Kitty's friends and family as well as the depth of Moseley's depravity."— Boston Globe

"The definitive account of a dark moment in US History, at once richly detailed, deeply humane, and profoundly compelling...Pelonero's book will leave you moved and enlightened."- Adam Alter, author of Drunk Tank Pink

"Catherine Pelonero has consulted all the original files and tracked down every surviving participant for her definitive analysis of the case. Reading her pages evokes anger and anguish in equal measure."— The Advocate

"Pelonero… [gets] readers thinking about gender as a crucial key to the puzzle." — The Nation

"If you only read one true crime book this year, I highly recommend it's this one."
— Fiona Guy, Crime Bookshelf