The Read through the Bible in a Year Planner: 2023 Edition (Paperback)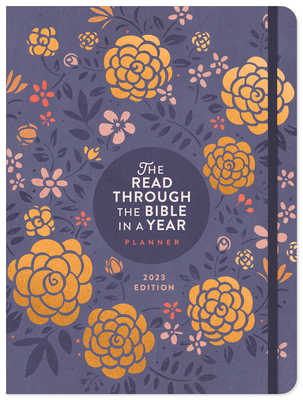 Description
---
Get Organized and Make 2023 the Year You Read Through the Bible! 

This fantastic daily planner features a full page for every day of 2023, highlighting important holidays and observances throughout the year as well as providing a daily Bible reading plan that leads you through God's Word in 365 days. Add to that a daily Bible verse and short devotional thought taken from that day's scripture, you will have space to write your reflections, keeping a year's worth of insights from God's Word! Other features on every page include:
Today's Top 3 Priorities
Hydration Chart
To-Do List
Personal Reminders
Month-at-a-Glance Calendars
And More!
About the Author
---
Barbour Publishing is a leading Christian book publisher offering bestselling books featuring exceptional value, biblical encouragement, and the highest quality. Barbour is the home of New York Times Bestselling author Wanda E. Brunstetter along with well-known fiction authors Gilbert Morris, Olivia Newport, Michelle Griep and many others. If your interest is Christian Living or Bible Reference, you'll find excellent titles by bestselling authors Josh McDowell, Jonathan McKee, Debora Coty, and Stephen M. Miller's The Complete Guide to the Bible.   Barbour also publishes the top classic devotionals God Calling by A.J. Russell, and Come Away My Beloved by Frances J. Roberts. With inspirational Christian books available in all genres--fiction for adults and children, Bible Promise books, devotionals, Bibles, Bible reference, puzzle books, and gift books there's something for everyone to enjoy.
 

Emily Marsh lives in Virginia with her husband, Seth. She works at a downtown real estate firm, a local dance studio, and as a Pilates instructor.