Orcs in Space Vol. 3 (Paperback)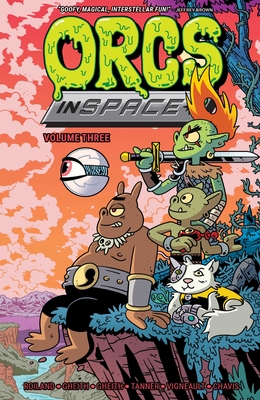 Other Books in Series
This is book number 3 in the Orcs in Space series.
Description
---
The third and final book in the wildly funny ORCS IN SPACE series by Justin Roiland and friends!

It's the mayhem-packed finale of Orcs in Space! After defeating Smedlar the World-Basher and kinda saving the galactigon, the orcs get no respect! When their old enemies the Space Rats and StarBleep threaten their homeworld, D.O.N.A. brings the orcs back to crusty ol' Muckball. The adventuring party grows when that paragon of orcitude, Mergon Thunderhoof, joins a deadly quest to find the one thing that can save their world. If they fail, this is the end of orc civilization! And that's probably bad...right?
About the Author
---
R.Y. Gheith is a writer who spends an unhealthy amount of time reading comics, playing fantasy online games, and planning his next step toward musical pop stardom.

Born in the sleepy suburban town of Modesto, California, Abed Gheith grew up surrounded by He-Man toys, Jim Henson properties, and Superman comics. At a young age, he was always using his imagination to play outside by his lonesome. While other kids were getting broken legs and playing sports, he was coming up with ideas and stories and pretending he was an action movie star. Fast-forward to adulthood, Abed moved to Los Angeles at 23 with his friends Justin Roiland and Sevan Najarian. Together, they created the cult Internet sensation House of Cosbys for Channel101.com. This led to writing two episodes of Rick and Morty with his brother, Rashad. Nowadays, Abed works as a story consultant on shows for Disney and Cartoon Network, and in his spare time writes comic books. He is the inspiration for the character Abed Nadir on the NBC sitcom Community and occasionally co-hosts on a podcast called Gone Riffin' with Rich Fulcher.

FRANÇOIS VIGNEAULT is a freelance illustrator, designer, and cartoonist (not necessarily in that order). In addition to Titan, his work includes 13e Avenue (Éditions de la Pastèque), and his comics and illustrations have been appeared in publications such as Planches, Papercutter, Kayak, and Study Group Magazine. His work has been nominated for numerous awards, including the Joe Shuster Award, Prix des Libraires, and the Prix des Collèges. Born in the United States to immigrant parents, he has lived and worked in Montréal, Québec since 2015.

DJ Chavis is colorist for Orcs in Space and a big ol' nerd with an arguably unfathomable amount of ridiculous interests and hobbies. Warning: Catch him in the right mood and he might talk your ear off about said interests. Follow his work @djcolorscomics.

Justin Roiland grew up in Manteca, California, where he did the basic stuff children do. Later in life, he traveled to Los Angeles. Once settled in, he created several popular online shorts for Channel 101. Some notable examples of his work (both animated and live action) include House of Cosbys and Two Girls One Cup: The Show.

Justin is afraid of his mortality and hopes the things he creates will make lots of people happy. Then maybe when modern civilization collapses into chaos, people will remember him and they'll help him survive the bloodshed and violence. Global economic collapse is looming. It's going to be horrible, and honestly, a swift death might be preferable than living in the hell that awaits mankind. Justin also really hates writing about himself in the third person. I hate this. That's right. It's me. I've been writing this whole thing. Hi. The cat's out of the bag. It's just you and me now. There never was a third person. If you want to know anything about me, just ask. Sorry this wasn't more informative.