Fact-Checking the Fact-Checkers: How the Left Hijacked and Weaponized the Fact-Checking Industry (Paperback)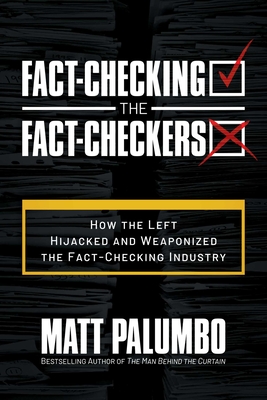 $18.99

Usually Arrives in 3-5 Days
Description
---
The fact-checking industry is exposed as a covert arm of the political left.

Who fact-checks the fact-checkers?

An industry that started in the 1990s by fact-checking chain emails and Bigfoot sightings has evolved over the past decade into the American political left's strongest tool in justifying the censorship of their political opposition and shaping the national narrative in their favor.

There may have been a brief era where the fact-checkers fact-checked facts—now they fact-check reality itself.
About the Author
---
Matt Palumbo is the author of The Man Behind the Curtain: Inside the Secret Network of George Soros (2022), Dumb and Dumber: How Cuomo and de Blasio Ruined New York (2021), Debunk This!: Shattering Liberal Lies (2019), and Spygate: The Attempted Sabotage of Donald J. Trump (2018).
Praise For…
---
"In this substantive and gripping exposé, Matt Palumbo pulls back the curtain on the so-called fact-checking industry. This book vividly documents the dishonesty and incompetence of the cabal that big tech companies have chosen to be the arbiters of truth."
— James D. Agresti, President of Just Facts

"Matt Palumbo's deeply researched book shows why the public doesn't trust the media's self-appointed 'fact checkers.' Their name trumpets their neutrality. The reality is sadly different. All too often, their goal is to advance a partisan agenda and do it more effectively by feigning non-partisan independence. Palumbo rips off the mask."
— Charles Lipson, Peter B. Ritzma Professor Emeritus, University of Chicago 

"This is THE definitive book exposing the fact-checking industry as an arm of the liberal media. After revealing how the industry acts to further censorship, Matt Palumbo then extensively proves that no one knows less about the facts than the self-proclaimed fact-checkers."
— Dan Bongino, Host of The Dan Bongino Show and Unfiltered