frank: sonnets (Paperback)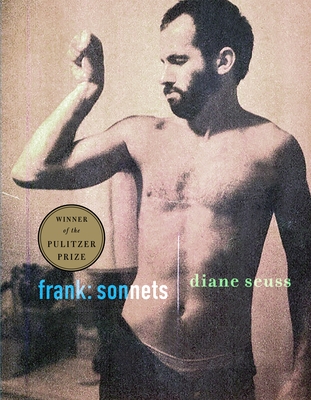 $18.00

Usually Arrives in 3-5 Days
Description
---
WINNER OF THE 2022 PULITZER PRIZE IN POETRY
WINNER OF THE 2021 NATIONAL BOOK CRITICS CIRCLE AWARD FOR POETRY
WINNER OF THE 2022 PEN/VOELCKER AWARD FOR POETRY COLLECTION
WINNER OF THE 2021 LOS ANGELES TIMES BOOK PRIZE FOR POETRY

A resplendent life in sonnets from the author of Four-Legged Girl, a finalist for the Pulitzer Prize

"The sonnet, like poverty, teaches you what you can do / without," Diane Seuss writes in this brilliant, candid work, her most personal collection to date. These poems tell the story of a life at risk of spilling over the edge of the page, from Seuss's working-class childhood in rural Michigan to the dangerous allures of New York City and back again. With sheer virtuosity, Seuss moves nimbly across thought and time, poetry and punk, AIDS and addiction, Christ and motherhood, showing us what we can do, what we can do without, and what we offer to one another when we have nothing left to spare. Like a series of cels on a filmstrip, frank: sonnets captures the magnitude of a life lived honestly, a restless search for some kind of "beauty or relief." Seuss is at the height of her powers, devastatingly astute, austere, and—in a word—frank.
Praise For…
---
"Seuss transforms 'tragic spectacle' into something beautiful, visionary, 'revolting and grand.'"—The Nation

"This book is a response to death, a way of living in knowledge of death's privations. . . . What Seuss is hoping for is an extended enough death to allow for a witty recognition of the shape it is imposing on the life it ends. Beyond that, though, what she wants is enough life to make her death into a kind of 'last rhyme', a sound that radiates both into the past and into the future, where it might make contact with your body, or mine."—Kamran Javadizadeh, London Review of Books

"Seuss layers the work with a litany of cultural and literary references . . . It is at that bright, fascinating collision between tradition and innovation that these poems reside."—Soft Punk Magazine

"The whole book is . . . barbed and artful, dramatizing both Seuss's writing life and her life-life, staking out a territory for the reader to look at and admire but never to control or own."—Poetry Foundation

"frank: sonnets feels very close to writing; it is a heady, intoxicating experience. Seuss understands the labor of a sonnet's particular space—the intensity and the balance, the anaphora and the rhyme that can gallop wild inside the sonnet's field."—The Rumpus

"This is a writer whose pleasure in building language knocks you over and makes you feel some responsive pleasure…"—Women's Review of Books

"Seuss is at her most moving and morally attuned…"—Harvard Review

"The lightning intelligence of Diane Seuss's poems strikes equally the lavish external world and the harrowed interior. A brilliant and devastating account of the making and survival of a poet, frank: sonnets has a relentless, lambent urgency; by its final pages I had to remind myself to breathe."—Garth Greenwell

"In frank: sonnets Diane Seuss has written an ambitious, searing, and capacious life story. . . . Another collection that staggers, one that makes mastery seem effortless, one that's honest, true, gorgeously frank."—Traci Brimhall

"Every poem in frank: sonnets is an example of the incomparable Seussian Sonnet. . . . Acute, resolute, buoyant, and unflinching, frank rings loudest as a synonym for candor, so much do these poems feel tethered to a real life, a real world, simultaneously grounded and spiritual, verbal and existential, with resonances of the blues."—Terrance Hayes

"Good lord. I've rarely read a book that feels so intimate, so spoken. I've rarely read a book that makes me feel so spoken to. So with. These are poems born of a kind of wrought faith that, despite all the breaking, language still might bring us closer to each other, and closer to ourselves. Diane Seuss's frank: sonnets shares that faith with us. And goddamn, I am so grateful for that."—Ross Gay