Pastry for Beginners: Step-by-Step Recipes for Sweet and Savory Treats (Paperback)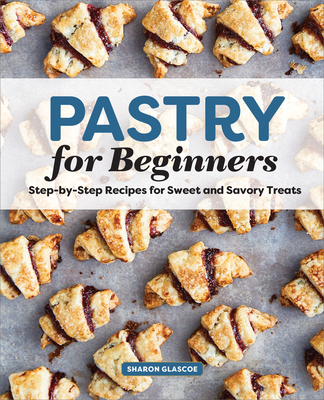 Description
---
Become a pastry aficionado with this all-in-one pastry cookbook
Baking beautifully golden, buttery pastries from scratch may seem intimidating—but all it takes is a tasty recipe and some trustworthy guidance. This pastry cookbook is for the home baker who wants to up their baking skills with picture-perfect pastries.
This pastry cookbook includes step-by-steps and photos for fundamental dough-making techniques, like blind baking pie dough, kneading soft yeasted breads, laminating an airy puff pastry, and piping a light choux pastry; as well as dozens of recipes for flaky and flavorful sweet and savory pastries.
This pastry cookbook includes:
Knead-to-know—An overview covers pastry terminology, essential equipment and ingredients, as well as tips for prepping and handling your dough.
Dough not 'doh'—Become an expert on pastry-making with easy-to-follow master dough recipes, as well as troubleshooting for any pastry problems.
Pastry perfected—Try your hand at mouthwatering recipes for tarts, turnovers, eclairs, and more.
Uncover the secrets of pastry-making with the foolproof guidance of this pastry cookbook.
About the Author
---
Sharon Glascoe is a self-taught baker, cook, and overall food enthusiast. Through her blog, Certified Pastry Aficionado, she uses her passion for baking and food photography to inspire others to make incredible foods in their own kitchens. This led to the inspiration of her first cookbook, Pastry for Beginners, which you can find on Amazon and other major retailers.
Praise For…
---
"If you've ever been intimidated by the idea of baking pastries at home, Pastry for Beginners is for you. Sharon Glascoe breaks down the process with step-by-step techniques and includes a variety of sweet and savory recipes for showcasing your new skills. Delicious homemade pastries are now within reach—regardless of your baking experience."—Allison Mattina, publisher, Celebrating Sweets (celebratingsweets.com)

"Pastry for Beginners is a must-have for any aspiring baker! With her clear explanations and step-by-step instructions, Sharon makes a seemingly formidable endeavor—pastry making—not only doable but enjoyable. You will not believe what you will be able to create! Enjoy bakery-level treats in your own kitchen with this guide!"—Karen of The Food Charlatan (thefoodcharlatan.com/)

"Sharon's new book is my go-to source for making simple pastry at home. The photos are beautiful, but the truly important part is how easy everything is to read and follow. I cannot wait to keep trying recipes—and that's going to have to happen fast as the kids are begging for more!"—Carrian Cheney, founder of Oh Sweet Basil (ohsweetbasil.com)