Mindfulness Activities for Kids with ADHD: Engaging Stories and Exercises to Help You Learn And Thrive (Paperback)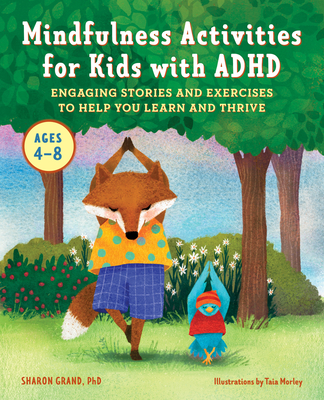 Description
---
A storybook to help kids with ADHD practice mindfulness—for ages 4 to 8
Give kids the tools to stay mindful and in control with this unique choice in ADHD books for kids. Featuring three different tales, it follows a group of animal friends who experience some of the signs of ADHD on their adventures and explains the mindfulness activities they practice to stay confident and positive.
This standout among ADHD books for kids includes:
Questions and activities—Every story presents strategies for kids to try, like writing down their feelings, using their "puppy breath" when they're feeling anxious, and how to "wiggle and freeze" when their body is full of excitement.
Kids and parents—Whether kids can read this book by themselves or prefer it read aloud, grown-ups can get involved by encouraging kids to practice the mindfulness activities they learn.
Familiar friends—Kids will see themselves in these smart and talented animal characters who encounter challenges with socializing, staying focused, and understanding their feelings.
Go beyond other ADHD books for kids with an interactive story that explores how mindfulness can help them thrive.
About the Author
---
SHARON GRAND, PhD, BCN, is a licensed psychologist who has worked with children and families for many years. She owns Wavelengths Psychology and Neurofeedback, a private group therapy practice on Long Island, New York, where she is fortunate to have an awesome team of therapists dedicated to a mind-brain-body approach to mental health. Dr. Grand is personally and professionally familiar with executive functioning challenges, and uses humor and a growth mindset to keep learning and never give up! She is proud of all the children and families who are working hard to learn and grow together.
Praise For…
---
"As a clinical psychologist who has been treating children for the past 25 years, I find this book exceptionally useful and beneficial to those caretaking and/or parenting children with ADHD. This book touches on many of the hallmarks of a child who is presented with the challenges of living with ADHD as well as effective ways for parents/caregivers to address these challenges via hands-on parent-friendly activities. The activities illustrate how a parent/caretaker can support and assist the child by approaching challenging situations with a series of simple steps. I am impressed by how competently Dr. Grand was able to capture all these themes through reader-friendly illustration. This book should be on the bookshelf of every mental health practitioner providing services to parents/caregivers with children living with ADHD." —Ricardo Buitrago, Psy.D., director of clinical services, Mental Health Center of Florida

"What an unbelievably useful resource! Whether you are working with one student or a group of students, this book is amazing! My students don't want me to stop reading it to them, and they love doing the activities and reflections. This book can be used with all students, not just those who have ADHD. I have used it with students who have anxiety, and I have also used it to do whole class lessons. This will become your new favorite go-to book in your classroom or office. I highly recommend it!" —Gina Kelly, elementary school counselor

"This book is wonderfully creative and practical in helping kids experiencing symptoms of ADHD to better understand how one's own mind, body, and emotions are all connected. It is full of engaging stories, illuminating questions, and fun, easy mindfulness activities that encourage kids to learn more about themselves and build important skills. Kids even learn how to teach mindfulness to their caregivers. This is a book I strongly recommend to parents seeking resources for their children." —Kristan Baker, PsyD, psychologist

"If you have a child who is struggling with ADHD or is just a little rambunctious, this is the book for you. The stories are great and the strategies for helping your child work through their difficulties are easy and practical. Dr. Sharon Grand truly understands the needs of these children and gives us quick and easy tools to help." —Amy Herman, reading specialist

"Dr. Grand has written an in-depth workbook on mindfulness for children that deftly uses stories and activities to teach a wide variety of mindfulness activities. Through engaging stories and characters, the symptoms of ADHD are portrayed with warmth and compassion, and mindfulness techniques are matched to specific symptoms. I would gladly recommend this book to parents of children with ADHD as well as school counselors and therapists." —Robin Knoblach, Ph.D., clinical psychologist