Autism Activity Book for Kids: 50 Fun Exercises to Build Confidence and Improve Communication Skills (Paperback)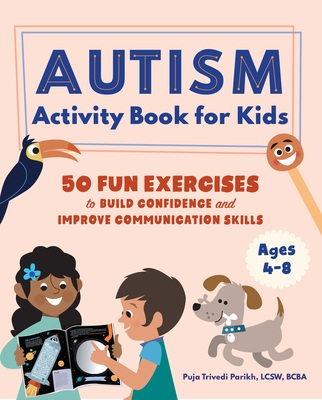 $13.99

Usually Arrives in 3-5 Days
Description
---
Help kids with ASD thrive with interactive activities for building confidence and skills
Games and exercises are fun ways for kids with autism spectrum disorder (ASD) to learn and grow. This standout among autism books for kids features 50 activities to help children regulate their emotions, communicate, and improve focus. Colorful and uplifting, this book empowers kids to build lifelong skills while celebrating their unique strengths and talents.
Go beyond other autism books for kids with exercises that:
Make every day easier—These puzzles, quizzes, and coloring pages help kids understand autism and improve the skills they'll use in school and at home.
Help develop skills and good habits—Activities like The Monkey Maze can help direct a child's attention from repetitive behaviors. And try Clay Play to help nonverbal children express themselves.
Include tips for adults—Each exercise includes a tip for grown-ups that explains how it works and how they can encourage kids to try it out.
Kids will have a blast while developing abilities that help them succeed with this entry into autism books for kids.
About the Author
---
PUJA TRIVEDI PARIKH, LCSW, BCBA, is a licensed psychotherapist and behavior analyst with more than 12 years of clinical experience treating children and adults with ASD, ADHD, depression, and anxiety. Learn more at www.PivotalPsychotherapy.com.
Praise For…
---
"A thoughtful book written by a mother and therapist as an additional tool for parents and caretakers for children not only on the spectrum, but also willful and spirited preschool/early elementary-aged kids. The colorful and artistic exercises involve little to moderate preparation for parents of children on the autism spectrum and also have helpful tips for common points of frustration. If you are looking for a friendly, practical resource for your child for an addition to your collection as a therapist, I recommend this book." —Christine Stern, MD FAAP, board certified pediatrician

"Autism Activity Book for Kids is versatile, comprehensive, effective, and fun! Highly recommend for parents and professionals who support kids with ASD. I even keep a copy in my car for quick on-the-go interventions!" —Julie Santorella, LCSW

"This is a beautifully presented activity book. It covers a variety of topics that target many of the challenges those in the ASD community face. There is an excellent variety of games, strategies, and activities to engage young students and their caregivers in learning. One of the highlights of the book is the parental tip footnotes, which thoroughly explain why the activity was chosen as well as how to extend the lesson to real-life situations. I highly recommend this wonderful resource!" —Richard M. Field, speech-language pathologist