The Green Hand and Other Stories (Hardcover)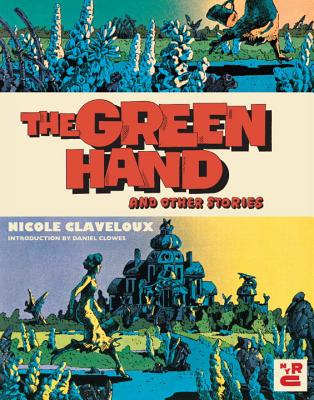 $24.95
Unavailable- email or call for Special Order request
Description
---
Nicole Claveloux's short stories—originally published in the late 1970s and never before collected in English—are among the most beautiful comics ever drawn: whimsical, intoxicating, with the freshness and splendor of dreams. In hallucinatory color or elegant black-and-white, she brings us into lands that are strange but oddly recognizable, filled with murderous grandmothers and lonely city dwellers, bad-tempered vegetables and walls that are surprisingly easy to fall through. In the title story, written with Edith Zha, a new houseplant becomes the first step in an epic journey of self-discovery and a witty fable of modern romance—complete with talking shrubbery, a wised-up genie, and one very depressed bird.

This new selection, designed and introduced by Daniel Clowes, presents the full achievement of an unforgettable, unjustly neglected master of French comics.

This NYRC edition is an oversized hardcover and features multiple extra-thick paper stocks, full color, and new English hand-lettering.
About the Author
---
Nicole Claveloux contributed to the French comics magazines Métal Hurlant (Heavy Metal) and Ah! Nana, and drew a popular comic strip called Grabote. Championed by Harlin Quist, she has also illustrated a number of successful children's books, including an award-winning version of Alice in Wonderland. She lives in France.

Daniel Clowes is a cartoonist, illustrator, and screenwriter. He attended the Pratt Institute in Brooklyn, New York, and began his career as an underground cartoonist in 1985 with the short-lived comic book series Lloyd Llewellyn. In 1989 he created the influential comic book series Eightball, which includes the celebrated issues Like a Velvet Glove Cast in Iron, Caricature, and Ghostworld. Ghostworld was adapted into a film directed by Terry Zwigoff, with a screenplay by Clowes; the film received an Academy Award nomination for Best Adapted Screenplay and won two Independent Spirit Awards, among others. Clowes's work has appeared in The New Yorker, Time, Newsweek, and many other magazines. He received the 2011 PEN Literary Award for Graphic Literature. He lives in Oakland, California.

Donald Nicholson-Smith was born in Manchester, England and is a longtime resident of New York City. He came across Clébert's Paris insolite as a teenager and has long wished to bring it to an Anglophone audience. Among his many translations are works by Paco Ignacio Taibo II, Henri Lefebvre, Raoul Vaneigem, Antonin Artaud, Jean Laplanche, Guillaume Apollinaire, Guy Debord, Jean-Patrick Manchette, Thierry Jonquet, and (with Alyson Waters) Yasmina Khadra.  For NYRB Classics he has translated Manchette's Fatale and The Mad and the Bad, which won the 28th Annual Translation Prize of the French-American Foundation and the Florence Gould Foundation for fiction.
Praise For…
---
"Darkly humorous, existential, erotic, trance inducing — these comics wield a rare and innovative power....The brilliance of [Claveloux's] comics lies in what they require of the viewer, to be intimate with what is not known, both within the work and themselves." —Leopoldine Core, The New York Times

"Like a time capsule, these 1970s stories by French cartoonist Claveloux—largely untranslated and unseen in the States until this collection—are a reminder of just how outrageous and imaginative comics could be back in that freewheeling decade.... Claveloux's exquisitely detailed illustrations reflect such contemporary forces as underground comix artists from Robert Crumb to Victor Moscoso, designer Heinz Edelman, and the Day-Glo colors of psychedelic posters.... Her amalgam, though, is a singularly remarkable trip." —Booklist

"Nicole Claveloux's comics come across as odd, mind-bending 'What If's.'….The work, certainly, has that air of being created at an inspired moment, with 'The Green Hand' in particular presenting as a little-recognized masterpiece." —The Comics Journal

"The artwork...is some of the most beautiful ever created for our lowly form—vivid, dreamlike, with intensely vivid hand-separated colors unlike anything I've ever seen." —Daniel Clowes

"Claveloux['s]...explicitly adult pop-art fantasia delivers emotional insight and imaginative visuals that take the driver's seat away from the strong logic of the narrative and enjoyably amble readers toward the byways of the subconscious with hauntingly powerful designs and sagacious observation." —Library Journal, starred review