Blood: The Graphic Novel (Paperback)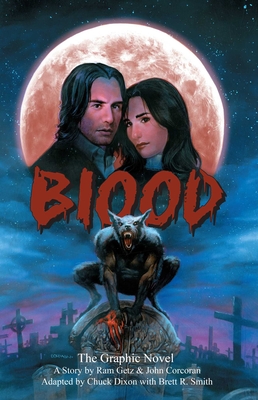 $19.99

Usually Arrives in 3-5 Days
Description
---
The harvest moon rises and the harvest is blood.

When the Blood Moon bleeds red in the night sky, a Beast descends upon the village of Kessler, hunting for human life.

A remote frontier village has fallen under a curse. With the full moon comes a horror that walks like a man but kills like a beast.

Abigail Thorne lives under the threat of the terror that stalks the woods, as well as a mystery in her own blood that may tie her to the killings in a way she never suspected.
About the Author
---
John Corcoran—Chicago native—is a writer, screenwriter, editor, and newspaper columnist based out of Los Angeles, California. John has written across a handful of different mediums and is the co-editor and operator of a quarterly LA-based literary rag called The Pen Name.

Ram Getz began his career by creating commercials and music videos before transitioning into the entertainment business. Ram served as a production executive for Radar Pictures before working as a writing producer for both film and television, while co-creating GM Management for LA talent.

Brett R. Smith is a professional commercial artist working in the graphic novel industry as an edi-tor and creative director, a color artist in the comic book industry, a storyboard artist in the advertis-ing industry, and a graphic artist for multiple clients. He holds a B.F.A. in Animation. Smith start-ed in the commercial art field in 1995 as an in-house color artist for Chaos Comics. Since then he has worked with a wide array of clients, including Marvel and DC Entertainment, Hasbro, Cartoon Network, McCann Erikson, BBDO, and Saatchi & Saatchi. Smith has contributed to multiple premier properties and licenses including, The Avengers, Batman, Superman, GI Joe, Wolverine, Suicide Squad, Guardians of the Galaxy, Hulk, Detective Comics, Heineken, Chase Bank, Miller Beer, Cheerios, Pillsbury, Birds Eye, and many others. Smith was a co-adapter, editor, and creative director for the New York Times #1 bestseller, Clinton Cash: A Graphic Novel.

Chuck Dixon is a graphic novel editor, writer, and publisher. He has contributed over a thousand scripts to publishers like DC Comics, Marvel, Dark Horse, Hyperion, and others featuring a range of characters from Batman to The Simpsons. His comic book adaptation of J.R.R. Tolkien's The Hobbit is an international bestseller. He is the co-creator of the iconic Batman villain Bane, and a prolific writer for GI Joe and A-Team for IDW Publishing, The Good the Bad and the Ugly for Dynamite, The Simpsons for Bongo Comics, and many creator-owned projects, including Joe Frankenstein. He is the co-publisher of a line of graphic novels based on the American Civil War and author of two series of action novels, Bad Times and Levon Cade. Dixon was co-adapter and writer of the New York Times #1 bestseller, Clinton Cash: A Graphic Novel and The Forgotten Man: The Graphic Edition.