Cruisin' the Fossil Freeway Map: The Ultimate Prehistoric Road Map to the Best of the American West (Sheet map, folded)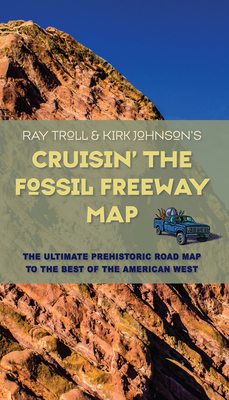 Email or call for price. 330-653-2252 or 1-800-968-2685 or books@learnedowl.com
Special Order
(This book cannot be returned.)
Description
---
An illustrated companion map for Cruisin' the Fossil Freeway, which follows the zany travels of a paleontologist and an artist as they drive across the American West in search of fossils.
About the Author
---
Kirk R. Johnson is a paleobotanist and the Sant Director of the Smithsonian's National Museum of Natural History in Washington, D.C. With research focus on fossil plants, ancient climates, and the K-T boundary, he strives to make his science accessible. Kirk is the host of two recent PBS series, Making North America and The Great Yellowstone Thaw. He has written ten books, including Prehistoric Journey; Cruisin' the Fossil Freeway; Ancient Denvers; Ancient Wyoming, and Digging Snowmastodon.

Ray Troll is best known for his twisted yet accurate fish-oriented imagery. Ray has illustrated ten books, including Cruisin' the Fossil Freeway; Sharkabet; Rapture of the Deep; Planet Ocean, and Ray Troll's Shocking Fish Tales. His distinctive art has formed the core of many traveling museum exhibits, including "Dancing to the Fossil Record" and "Amazon Voyage: Vicious Fishes and Other Riches." His science-infused art has appeared on more than two million T-shirts. Ray and his wife, Michelle, own and operate the Soho Coho Gallery, located on a salmon-spawning stream in the former red-light district of Ketchikan, Alaska.