The Stronger Than Bpd Journal: Dbt Activities to Help Women Manage Emotions and Heal from Borderline Personality Disorder (Paperback)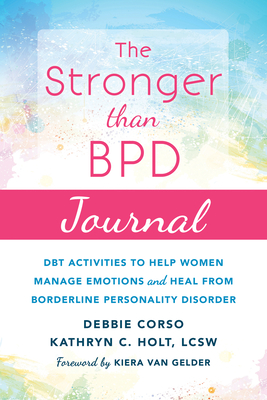 Description
---
Your story is just beginning. In The Stronger than BPD Journal, influential BPD blogger, advocate, and peer educator Debbie Corso and psychotherapist Kathryn C. Holt offer guided writing activities to help you work through strong emotions, strengthen emotional resiliency, and build lasting relationships.
If you have borderline personality disorder (BPD), you may have trouble managing your intense emotions, navigating day-to-day life, and maintaining healthy relationships. You may also have trouble seeing yourself clearly beyond your diagnosis. But you should know that--while BPD is a part of your life's story--BPD isn't the whole story.
This unique journal offers gentle guided exercises based in dialectical behavior therapy (DBT) to help you balance your emotions, take time for self-care and exploration, and put a stop to overly critical self-judgment. You'll also learn to reduce stress, upsets, and triggers; gain resiliency; and improve communication with others.
Writing can be a vehicle for profound self-reflection, exploration, and healing. This guided journal will help you take control of your emotions, gain insight into your unique mind, and start living the life you deserve.
This book has been selected as an
Association for Behavioral and Cognitive Therapies Self-Help Book Recommendation
--an honor bestowed on outstanding self-help books that are consistent with cognitive behavioral therapy (CBT) principles and that incorporate scientifically tested strategies for overcoming mental health difficulties. Used alone or in conjunction with therapy, our books offer powerful tools readers can use to jump-start changes in their lives.
About the Author
---
Debbie Corso is a mental health blogging pioneer, courageously chronicling her journey while lighting a torch to provide hope to a severely emotionally wounded community. She has a BS in behavioral science, communications, and English from the New York Institute of Technology in interdisciplinary studies, as well as a certificate in early childhood development. She is a certified Emotional Confidence Life Coach, and is also in recovery from borderline personality disorder (BPD). Through hard, consistent work using dialectical behavior therapy (DBT), she no longer meets the criteria to be considered "borderline." Her work as an intake coordinator and case manager at a nonprofit organization, working closely with children at risk for abuse and neglect, was the catalyst that propelled her to document and share her powerful journey through her blog, and hopeful and encouraging books on overcoming the oppressive symptoms of BPD. She currently cofacilitates worldwide DBT psychoeducational courses online at www.emotionallysensitive.com, and is author of Stronger Than BPD. Corso resides in Northern California. Kathryn C. Holt, MSSW, LCSW, is a psychotherapist who accompanies people on the journey of reclaiming their hunger, desire, and permission to live fully in their bodies and lives. She writes about her journey and her psychospiritual approach to healing at www.kathryncholt.com. Kathryn studied DBT at Columbia University in New York City, NY, and worked with teens, adults, and families using DBT prior to moving to Boulder, CO, where she now lives and practices. She is now pursuing her PhD in depth psychology, and offers individual therapy, groups, and retreats with the intention of reconnecting people with their power, wisdom, and purpose. Foreword writer Kiera Van Gelder, MFA, is an artist, educator, and writer diagnosed with BPD. An international speaker and advocate, she is featured in the documentary Back from the Edge: Living with and Recovering from Borderline Personality Disorder.