Marie Curie: A Quest For Light (Paperback)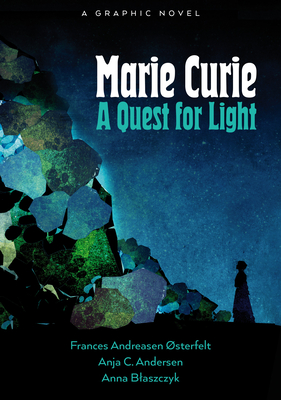 $17.99

Usually Arrives in 3-5 Days
Description
---
Marie Curie's exceptional life and groundbreaking research changed the world, expanding scientific understanding, and creating new opportunities for women, as explored in this lavishly illustrated graphic biography endorsed by the Curie Estate.

Curie's unique drive--against all odds--to understand Nature's ways and laws led to ground-breaking discoveries, which revolutionized medical theory and practice. She was the first female Nobel Prize winner and, to date, the only person to win a Nobel Prize in two categories; first physics and later in chemistry.

Authorized by the Curie Estate, Marie Curie: A Quest For Light presents a special collaboration between author Frances Andreasen Østerfelt; the internationally acclaimed Danish astrophysicist Anja Cetti Andersen; and features delightful illustration by artist Anna Blasczcwyk. Together they have made Curie's fascinating story accessible to young readers.
About the Author
---
Frances Andreasen Østetfelt is Dr. odont., an essayist, and puppet maker for theater and animation films. Østerfelt has studied Marie Curie's life and work for many years, which was the inspiration behind Marie Curie: A Quest for Light.

Østerfelt's co-author is Anja C. Andersen - Professor of the newly founded chair of 'Public Understanding of Science' and a researcher in cosmic dust. Anja has written an impressive volume of 'accessible' essays on scientific and technical issues.

Anna Blaszczyk is a Polish illustrator and animator and has won a number of awards for her short film animations.
Praise For…
---
"Aimed as an educational book to teach young readers about the famous scientist, A Quest for Light is also a captivating, moving, and all round engrossing book for readers of any age." — Monkeys Fighting Robots

"This is truly a work of art. It's a masterpiece of illustration and text where each image is pure poetry that gives homage to a brave trailblazer in science." — GeekDad

"This graphic novel is a short read that packs a powerful punch with artwork that is unforgettable. Whether you are familiar with her story or not, this will be a meaningful experience. " — Talking Comics

"The collage-style art is fascinating and adds depth and texture to the narrative. One almost feels like you're reading a scrapbook of favorite family photos, fabric leftovers, and knickknacks." — Fanbase Press