Erift's Journeys: Secrets of The Sealed Forest (Paperback)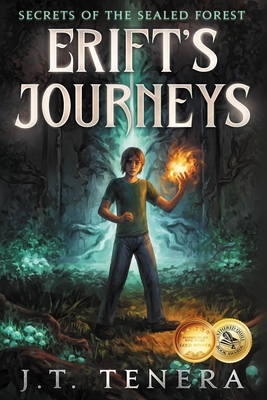 $13.99

On Our Shelves Now - May Be on Hold for Another Customer
Description
---
Airships and magic spells that create fire and slow time don't exist in the real world. That was what Joseph Erift always believed for seventeen years. They were just things you found in fantasy stories and video games. Or so he thought.
After traveling halfway across the globe with the promise of an exclusive game event, Joseph is pushed on a journey by a coffee-addicted professor that will forever change his life and his destiny.
Now, to stop a vengeful young man from awakening an ancient power, he'll have to battle stone chimeras in flooded ruins, avoid dancing trees in an ancient forest, and learn to control the magic within him. It's the adventure Joseph always dreamed of, but now he worries he won't live to tell the story.
--
Erift's Journeys is a fantasy adventure perfect for younger readers who have outgrown early chapter books and are seeking a long, more engaging story. It follows a young protagonist overcoming incredible odds while meeting new friends during an unexpected trip that leads to a long road of self-discovery.