Poppies of Iraq (Hardcover)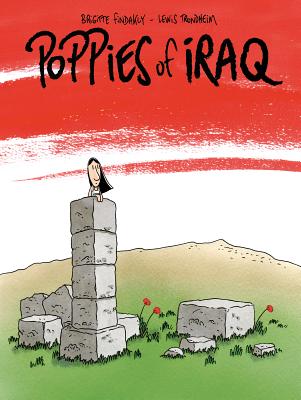 $21.95

Usually Arrives in 3-5 Days
Description
---
A personal account of an Iraqi childhood - appeared on best of the year lists from Kirkus, Guardian, Vulture, Forbes, and more!

Poppies of Iraq is Brigitte Findakly's nuanced tender chronicle of her relationship with her homeland Iraq, co-written and drawn by her husband, the acclaimed cartoonist Lewis Trondheim. In spare and elegant detail, they share memories of her middle class childhood touching on cultural practices, the education system, Saddam Hussein's state control, and her family's history as Orthodox Christians in the arab world. Poppies of Iraq is intimate and wide-ranging; the story of how one can become separated from one's homeland and still feel intimately connected yet ultimately estranged.

Signs of an oppressive regime permeate a seemingly normal life: magazines arrive edited by customs; the color red is banned after the execution of General Kassim; Baathist militiamen are publicly hanged and school kids are bussed past them to bear witness. As conditions in Mosul worsen over her childhood, Brigitte's father is always hopeful that life in Iraq will return to being secular and prosperous. The family eventually feels compelled to move to Paris, however, where Brigitte finds herself not quite belonging to either culture. Trondheim brings to life Findakly's memories to create a poignant family portrait that covers loss, tragedy, love, and the loneliness of exile.
About the Author
---
The phenomenal Lewis Trondheim is never where you next expect him. As an artist and writer, Trondheim has earned an international following as one of the most inventive, versatile, and prolific graphic authors. From autobiography to adventure, from bestselling fantasy and children's books to visual essays, Trondheim's unique, seminal imagination consistently dazzles. His work has won numerous awards, including the Angoulême prize for best series with Mc Coney and he also co-created the titanic fantasy epic Dungeon with Joann Sfar.
He is one of the founding members of the alternative publishing house L'Association, a proving ground for many of the greatest talents in European comics working today. He is also the editorial director of a new imprint called Shampooing, dedicated to comics for all ages.

Lewis lives in the South of France with his wife and two children.
Praise For…
---
Nominated for YALSA's 2018 Great Graphic Novels for Teens list!
Nominated for the Kirkus Prize!

"Poignant and powerful... a meditation on the ache and longing for a place you can no longer return."—Boston Globe

"Small in size but large in impact, this intimate memoir is a highly relevant and compassionate story of family, community, prejudice, and the struggle to love when the forces of the world push groups apart."—Kirkus, Best Teen Non-fiction of 2017

"[Poppies of Iraq's] power lies in the contrast between the matter-of-fact nature of the text and visuals, and the dread and horror of the backdrop... there is also hope to be found here — the hope that, no matter what befalls a nation, there will always be individuals who can craft something beautiful by virtue of their survival."—Vulture, Best Comics of 2017

"The rich effect of Poppies of Iraq... comes from the manner in which the sweet and domestic rests alongside horror."—Los Angeles Review of Books

"A plainly stated, emotionally devastating memoir... Throughout this bittersweet book, Findakly and Trondheim interweave the political and personal in a way that mirrors and heightens real life. Poppies of Iraq is about big events as seen through small eyes: there's a universalness underneath the specificity. Anyone, even with a boring childhood, should find something to relate to here... an unforgettable, devastating, sweet book."—Salon

"Wise, touching and wonderfully vivid... Findakly's memoir covers an extended period in Iraq's recent history... yet the half century ticks by with amazing ease, its author managing to tell both the story of a (complicated, fearful) nation, and that of one family of exiles coping with a new life in Paris."—Guardian, Graphic Novel of the Month

"An Iraqi childhood is cherished, examined, and let go in this tender look at youth amid upheaval... an ode to a lost era, to be sure, but one with its feet planted securely in the present."—Publishers Weekly, Starred Review

"[Poppies of Iraq describes] a childhood caught between cultures [and] vividly capture[s] an oppressive regime as seen from a kid's guileless point of view."—Reader's Digest

"The personal and political interweave in this sad yet charming memoir... Like snapshots, ­Findakly's story toggles back and forth in time, depicting memories mixed with historical background and "In Iraq" vignettes about customs in that country."—Library Journal

"This absorbing graphic memoir offers an insider's view of the rapid cultural changes that beset Iraq in the latter half of the 20th century... Short vignettes about her family, school, and local customs are alternately bittersweet, funny, and affecting as a series of military and political coups impact her family's life in Iraq... A moving, thought-provoking title for all collections."—School Library Journal, Starred Review

"Poppies of Iraq is a beautiful portrait of a life lived in cultural translation, its pages filled with humor and a nostalgia made complicated with age."—Bomb Magazine

"What is it like to grow up in Iraq? That's the question at the heart of Poppies of Iraq... a beautifully drawn graphic novel that shows how growing up in Iraq is more complicated than it seems."—Bitch Magazine