DAISY DE MELKER - Hiding among killers in the City of Gold (Paperback)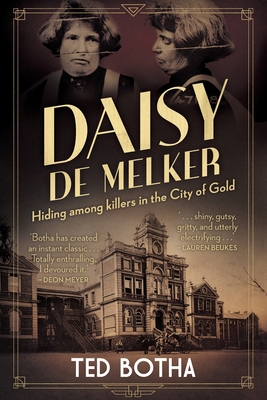 $18.50

Usually Arrives in 3-5 Days
(This book cannot be returned.)
Description
---
Mother. Nurse. Gold-digger. Cause c l bre. When Daisy de Melker stood trial in 1932, accused of poisoning her son and two husbands, the public couldn't get enough of her. Crowds gathered outside court baying for blood, and she waved to them like a celebrity.
Against the backdrop of Johannesburg in its golden age, a booming metropolis of opulence and chaos nicknamed the 'City of Gold' and the 'University of Crime', she had quietly gone about her sinister business while around her sensational crimes grabbed the headlines. There was the marauding Foster Gang, which left at least ten people dead; a dashing German hustler; a local Bonnie and Clyde; an innocent student walking in Zoo Lake park at the wrong time and a man who
escaped death row to become one of South Africa's most revered authors. These interlinking stories are told in the style of a thriller and with riveting, kaleidoscopic detail.
In Daisy de Melker, Ted Botha weaves together a fantastic cast of killers and con men, detectives and lawmen, journalists and authors - even Sir Arthur Conan Doyle and Herman Charles Bosman - to depict a grand and desperate city. For almost twenty years Daisy hid in the shadows but when someone finally spoke up about the suspicious deaths around her, it led to a trial like nothing the City of Gold had ever seen and spread her name across the world.