Y: The Last Man Compendium One (TV Tie-In) (Paperback)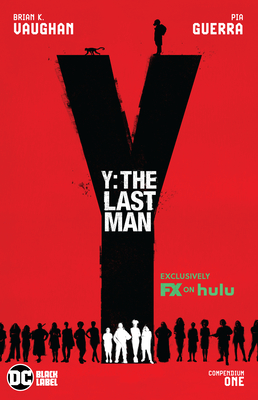 $59.99

Usually Arrives in 3-5 Days
Description
---
And women shall inherit the Earth.

It's summer 2002 and a mysterious plague has swept across the planet, killing every grown mammal and embryo possessing a Y chromosome—except for one man. For some reason, amateur escape artist Yorick Brown is the only human male to survive the androcide that has wiped out almost half of the global population.

Accompanied by his pet monkey, Ampersand—who is also immune to the pandemic—and aided by his politician mother and the enigmatic Agent 355, Yorick must struggle to survive in a world where he is now the most endangered species.

Y: The Last Man Compendium One collects issues #1-31 of the critically acclaimed series created by the award-winning team of writer BRIAN K. VAUGHAN (Ex Machina, Runaways) and artist PIA GUERRA (Black Canary, Spider-Man Unlimited).
About the Author
---
Brian K. Vaughan is the Eisner and Harvey Award-winning co-creator of many critically acclaimed comic books, including Saga, Y: The Last Man, Ex Machina, Runaways, and Pride of Baghdad. A professional comics writer since his days as an undergraduate film student at New York University, Brian has written every major DC and Marvel character from Batman to the X-Men. He's also written several screenplays, stage plays and short stories, but mostly, he likes to work on the funnybooks. He also served as writer and story editor on the hit TV series Lost.

Pia Guerra is the Shuster and Eisner Award-winning penciller and co-creator of Y: The Last Man, a book she will always look back on as a labor of love crossed with a trial of Hercules. She currently lives in Vancouver with her very talented husband Ian Boothby, who helped write this bio for her.