Assassin's Creed: The Ankh of Isis Trilogy (Hardcover)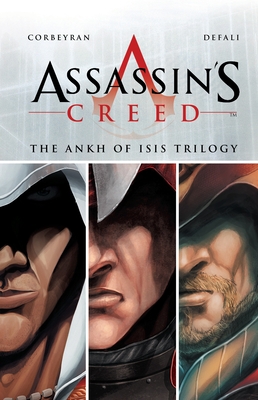 $24.95
Unavailable- email or call for Special Order request
Description
---
This first ever collection of the three-volume graphic novel from Ubisoft collects together the exhilarating story of Desmond Miles' abduction by Abstergo. His subsequent flight from their grasp leads to Desmond joining the Assassins in their fight against the Templars. Betrayal leads to Desmond "recovering" the memories of his ancestor, Aquilus as he searches for the power of the mystical Ankh and savage Barbarian tribes, led by the deadly Assassin Accipiter, prepare to attack.
About the Author
---
For more than twenty years Eric Corbeyran has written successful bande dessinée scripts. Boundless curiosity and fascination for varied art-forms have led him to explore a multitude of stories with a deft and dramatic touch.

Having developed many successful projects with Eric Corbeyran, Djillali Defali now turns his dramatic and realistic style to the detailed authenticity of the world of Assassin's Creed.
Praise For…
---
"Great story and superb artwork make for riveting reading." - Adventures in SciFi Publishing

"High quality work." - Only SP

"Brings something to both the devoted fan of the Ubisoft video game series in addition to the graphic novel aficionado" - GameNTrain 

"The Ankh of Isis trilogy is accessible to readers unfamiliar with the Assassin's Creed world. Within a few pages, things start tying together nicely." - Nerd Span

"The Ankh of Isis Trilogy delves into new, unseen areas both in Desmond's family history and in terms of his development." - Starburst

"Assassin's Creed The Ankh of Isis is a great companion to Assassin's Creed 2 and 3, and if you're a fan of the games than it is a must buy." - Geek Nutz

"The Ankh of Isis brings us an exhilarating story, not only told using words, but through wonderful artwork as well." - Awkward Geeks 

"Titan definitely did the right thing collecting all of the comics in a single volume, as it adds to the seamless story that Corbeyran and Defali are telling." - Comic Hype