The Last Stand (Paperback)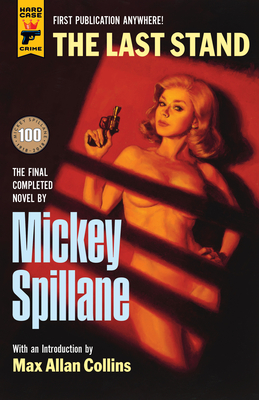 Description
---
ON MICKEY SPILLANE'S 100TH BIRTHDAY - A BRAND-NEW NOVEL FROM THE MASTER.

When legendary mystery writer Mickey Spillane died in 2006, he left behind the manuscript of one last novel he'd just completed: THE LAST STAND. He asked his friend and colleague (and fellow Mystery Writers of America Grand Master) Max Allan Collins to take responsibility for finding the right time and place to publish this final book. Now, celebrating the hundredth anniversary of Spillane's birth, his millions of fans at last get to read THE LAST STAND, together with a second never-before-published work, this one from early in Spillane's career: the feverish crime novella A BULLET FOR SATISFACTION.

A tarnished former cop goes on a crusade to find a politician's killer and avoid the .45-caliber slug with his name on it. A pilot forced to make an emergency landing in the desert finds himself at the center of a struggle between FBI agents, unsavory fortune hunters, and the local Indian tribe to control a mysterious find that could mean wealth and power - or death. Two substantial new works filled with Spillane's muscular prose and the gorgeous women and two-fisted action the author was famous for, topped off by an introduction from Max Allan Collins describing the history of these lost manuscripts and his long relationship with the writer who was his mentor, his hero, and for much of the last century the bestselling author in the world.
About the Author
---
Mickey Spillane is the legendary crime writer credited with igniting the explosion of paperback publishing after World War II as a result of the unprecedented success of his Mike Hammer novels, feeding the public's appetite for sexy, violent, straight-talking crime stories. He also starred as Mike Hammer in The Girl Hunters. Mickey Spillane died at the age of 88 in 2006.
Praise For…
---
"A hell of a way to wrap up a legendary writing career."-- Booklist
 
"Spillane hot and cool…bookends his storied career."-- Kirkus
 
"A satisfying payoff with a rather touching aftermath…a worthy coda to Spillane's remarkable career in his centennial year." -- Publishers Weekly
 
"Tremendous fun" - Atomic Junkshop

"will appeal to any fan of Michael Crichton" - borg.com


"An entertaining adventure....The adventure takes a lot of unexpected turns and Spillane weaves in a lot of threads in just a couple hundred pages, but that's all part and parcel of Spillane's brilliance. Combined with his trademark sharp dialogue and simple prose style, he keeps the tale moving at an entertaining clip. " Killer Nashville (Book of the Day)

"An absolute 'must read' for all dedicated mystery buffs and the legions of Mickey Spillane fans" Midwest Book Review

"THE LAST STAND may result in a radical re-evaluation of Spillane evolution as an author, especially for those who felt he had nothing more to offer than the primitive, hard-hitting stories of Mike Hammer. For this reason, as well as discovering these two works for the first time, THE LAST STAND is a valuable contribution to the Spillane canon and highly recommended to both Spillane's longtime fans and those who know him solely as the creator of Mike Hammer. " - Bookgasm