Judge Dredd: The Complete Case Files 03 (Paperback)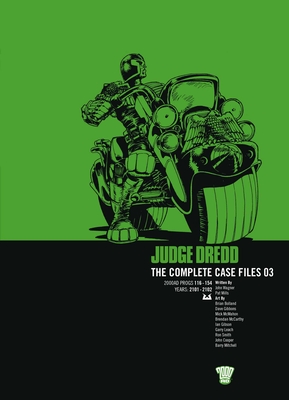 Description
---
The global best-selling graphic novel series – over half a million copies sold!

Judge Dredd: The Complete Case Files collects the adventures of the iconic British character, presented in chronological order, complete and uncut! He's judge, jury and executioner – the lawman delivering justice to the mean streets of far-future Mega-City One.

This third blockbuster volume includes classic Judge Death and Psi Anderson storylines. Written by comic legends John Wagner (A History of Violence), Pat Mills (Marshall Law) and Alan Grant (Batman), with art by Brian Bolland (The Killing Joke), Dave Gibbons (Watchmen), Ian Gibson (The Ballad of Halo Jones) and many more!
About the Author
---
John Wagner has been scripting for 2000 AD for more years than he cares to remember. His creations include Judge Dredd, Strontium Dog, Ace Trucking, Al's Baby, Button Man and Mean Machine. Outside of 2000 AD his credits include Star Wars, Lobo, The Punisher and the critically acclaimed A History of Violence.

PAT MILLS is the creator and first editor of 2000AD. He developed Judge Dredd and is the writer-creator of many of 2000AD's most popular stories such as Sláine, Nemesis and ABC Warriors. Amongst his credits are Marshal Law, (Marvel and D.C. Comics) co-created with Kevin O'Neill, the French graphic novel series Requiem, Vampire Knight with artist Olivier Ledroit, and Be Pure! Be Vigilant! Behave! The Secret History of 2000AD and Judge Dredd. His current projects include Joe Pineapples: Tin Man, illustrated by Simon Bisley and Clint Langley, Spacewarp, and Kiss My Axe! The Secret History of Sláine the Warped Warrior.

His characters all spiky lines and outsized boots, Mick McMahon – some times known as Mike – co-created perennial 2000 AD favourites The V.C.s, and provided Tharg with many classic episodes of Judge Dredd, Ro-Busters, A.B.C. Warriors and Sláine. Outside of the Galaxy's Greatest Comic, he drew an adventure with the original Cybermen for Doctor Who Magazine; Sonic the Hedgehog for Sonic the Comic; and, in America, issues of Batman: Legends of the Dark Knight plus the mini-series Tattered Banners and The Last American, the latter co-created with John Wagner and Alan Grant.

Perhaps the most popular 2000 AD artist of all time, Brian Bolland's clean-line style and meticulous attention to detail ensure that his artwork on strips including Dan Dare, Future Shocks, Judge Dredd and Walter the Wobot looks as fresh today as it did when first published. Co-creator of both Judge Anderson and The Kleggs, Bolland's highly detailed style unfortunately precluded him from doing many sequential strips — although he found the time to pencil both Camelot 3000 and Batman: The Killing Joke for DC Comics.

Dave Gibbons is one of 2000 AD's most popular artists, having co-created Harlem Heroes and Rogue Trooper. He has also pencilled A.B.C. Warriors, Dan Dare, Judge Dredd, Mega-City One, Ro-Busters, Tharg the Mighty, Tharg's Future Shocks and Time Twisters, as well as having scripted several Rogue Trooper stories – making Gibbons one of the few 2000 AD creators to have served as writer, artist and letterer! Beyond 2000 AD, Gibbons is unquestionably best known for his work on the award-winning classic Watchmen (with Alan Moore), but he has also drawn Batman, Doctor Who, Give Me Liberty, Green Lantern, Superman, Star Wars and his graphic novel, The Originals.

Brendan McCarthy began working for 2000 AD in its early days and as his style developed, he created and designed many memorable strips for the comic, including the British, Japanese and OZ judges, the Judda/Chopper storyline, Zenith and Sooner or Later. His later comics work includes the celebrated Rogan Gosh, the controversial, banned Skin, the influential Strange Days, the Dr Strange/Spider-Man series Fever for Marvel and more recently. The Zaucer of Zilk for 2000 AD (being re-published by IDW in the US). During the eighties, he moved into designing pop videos and then went on to create the visuals for the groundbreaking hit cgi animated TV series Reboot. This led to work in Hollywood on such projects as the first Teenage Mutant Ninja Turtles movie, Lost In Space and Highlander. He also co-wrote and designed the new instalment of the Mad Max franchise called Fury Road, with director George Miller. Brendan currently has a big new cgi animated feature film and a bizarre new comic series (Nano Nano) in the works.

Garry Leach is a highly-respected artist who has pencilled Dan Dare, Judge Dredd, Tharg's Future Shocks and The V.C.'s. His career beyond 2000 AD is highly notable for his work on the legendary Miracleman, which he effectively co-created with Alan Moore.
Praise For…
---
"If you want to sink your teeth into classic Judge Dredd, the best place to start" - Mental Floss

"Amazing and addictive" - io9

"What a collection it will be when it's complete." - Den of Geek