Vern, Custodian of the Universe (Paperback)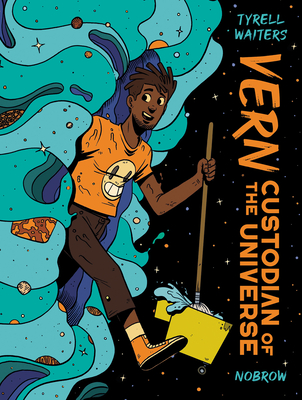 Description
---
A thought-provoking and hilarious romp through time and space from debut creator, Tyrell Waiters that explores what it means to be human in a world fraught with uncertainty.


On the edge of burnout, Vern decides to return to his family in the Sunshine State to start over. Starting a new dead-end job as a custodian at Quasar—a local science facility with a shady motive—he shrugs on his uniform, grabs a mop and bucket, and trudges off to clean up… Black holes? Space-time anomalies? Galactic ooze?



Things aren't entirely what they seem at Quasar, and when Vern accidentally plugs in a mysterious machine and finds himself standing on the brink of the destruction of every planet in the Multiverse, he's presented with the greatest question of all: is humanity even worth saving? Fans of Ben Passmore's personal and political comics—as well as classic sci-fi comedies like Bill & Ted's Excellent Adventure and Rick and Morty—will enjoy this world of hyper fantasy with a touch of humor, as told by a Black creator.
About the Author
---
Tyrell Waiters is a freelance illustrator and graphic designer from Palmetto, Florida. After graduating Ringling College of Art and Design, he turned himself to working as an apparel graphic designer for children's clothing. Now currently living in New Hampshire with his wife and their many cats, he works in a huge range of industries ranging from marketing to music and entertainment. When not working, he's painting in his studio and exploring nature.