Highly Sensitive Empaths and Narcissistic Abuse: The Complete Survival Guide to Understanding Your Gift, the Toxic Relationship to Narcissists and Ene (Paperback)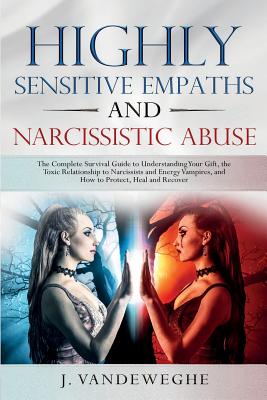 $23.99

Usually Arrives in 3-5 Days
(This book cannot be returned.)
Description
---
The correlation between Empaths and victims of Narcissistic abuse is quite incredible.
In some cases, it is not until a victim has suffered through narcissistic abuse that they start to research and investigate, which then leads to the eye-opening self-discovery of an Empath. This may be the case for you.
This bundle features
2 manuscripts
inside:
1. Highly Sensitive Empaths: The Complete Survival Guide to Self-Discovery, Protection from Narcissists and Energy Vampires, and Developing the Empath Gift.
2. Emotional and Narcissistic Abuse: The Complete Survival Guide to Understanding Narcissism, Escaping the Narcissist in a Toxic Relationship Forever, And your Road to Recovery.
This bundle will provide you with the
tools and knowledge
to help understand your self as an
Empath
, how to
grow
and
develop
, into a
stronger version of yourself
, and how to
protect yourself from toxic people
such as
energy vampires
and
narcissists
.
If you are a
victim
of
narcissistic abuse
in a
toxic relationship
, this bundle will also provide you with the
tools
to be able to
dissect what is actually happening in your relationship
, a
deep insight
into the
mind of a narcissist
, how to
safely escape
the relationship and
prevent relapse
, and ultimately, how to
heal
and
recover from the long-term abuse
.
Throughout the pages of
'Highly Sensitive Empaths, '
you will learn about:
The detailed traits of an EmpathA scientific and shamanic explanation of an EmpathPurpose and gift of the EmpathEmpath ArchetypesEmpath Self-AssessmentGrowing up as an EmpathParenting as an EmpathSubconscious Re-wiringSelf-Love and the Right EnvironmentEmpath StrengthsEmpath WeaknessesNarcissistic People and Energy VampiresEmpathic ProtectionEmpathic Self CareEmpath tipsFreebies insideAnd plenty more
Throughout the pages of
'Emotional and Narcissistic Abuse, '
you will be educated on complex topics, featuring:
Narcissism
Narcissistic Personality Disorder
Traits of the Narcissist
Signs and Symptoms of Narcissistic Abuse
Creation of the Narcissist
False-Self and True-Self
Characteristics of a Narcissists Target (Victim)
The Cycles of Abuse
Long-term Damage to the Victim
How to Heal Your Sense of Self
Strategies to Safely Escape the Narcissist and Prevent Relapse
Narcissists Manipulation Tactics Terminology
A Mini Handbook for Victims
And plenty more
This bundle will provide you with great value and insight on everything you are going through and what you need to do next.