Murderville: First of a Trilogy (Paperback)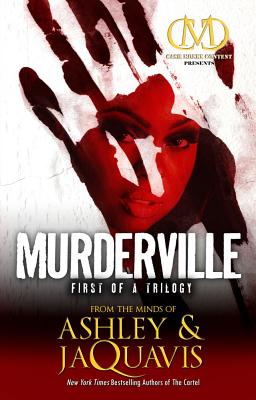 $16.99

Usually Arrives in 3-5 Days
Description
---
New York Times bestselling authors Ashley & JaQuavis bring you the first in the Murderville trilogy, exploring the cruel underground world of human trafficking that takes control of lives and love is a long-lost hope, but for Liberty and A'shai, nothing short of death could separate the two—but when their past street life comes back to haunt them, there's nothing they can do but accept their fate.

Two children from Sierra Leone, Liberty and A'shai, are brought together by chance only to be forced apart by the most inevitable and tragic fate—sold as slaves into the human trafficking world. Ashley and JaQuavis bring us this classic love story set against modern life's most horrifying realities.

Liberty is dying of a fatal heart condition, though she desperately wants to survive until her 25th birthday when her sister has promised to visit her. A'shai blames himself for not protecting Liberty, but all Liberty asks is for A'shai to tell her a story, to help her remember what brought them to this point. He knows that this is the last story he will ever tell and the last she will ever hear.

As Liberty lies dying, A'shai walks her though their past, reliving their ill-fated journeys through the streets. Their story takes them from an arranged marriage, through Mexico's drug cartel, child brothels, hustling in Detroit, to escaping the high-powered heads of L.A.'s underworld. But ultimately, this is a story of love and redemption that will leave you breathless from the unpredictable and mind-blowing ending.
About the Author
---
Born and raised in the most notorious neighborhoods in Flint, Michigan, it was only natural for Ashely and JaQuavis to write about the street life they knew all too well. During their freshmen year in college, they both received national publishing deals and they haven't looked back since. With smash hit novels from The Cartel series—which debuted on the New York Times bestseller list—they have solidified themselves as two of the best in their genre, together or apart. With a roster of sixteen published novels and a hefty ghostwriting resume, they have made successful careers for themselves.