Floppy Cop: Keep On Floppin' (Paperback)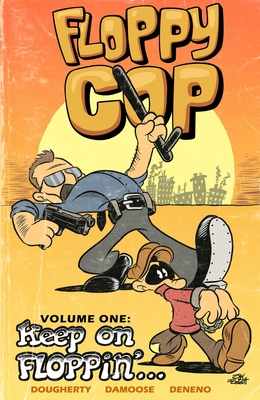 Description
---
An absurdist take on a spineless (literally) cop and his archnemesis, Crossword!

Join in on the absurd adventures of a cop who is bending over backwards for justice, mostly because he has no spine in his body! But as Floppy Cop always says, "you don't need to have a spine to have guts!" Together with a colorful cast of funny characters, Floppy has to solve the puzzles of a new criminal Crossword or Christmas might be ruined in the town of White Trickle Falls!
About the Author
---
Dan Dougherty is an award-winning writer and illustrator of comics and children's books. His comic Beardo is a slice-of-life autobiographical comedy that has been featured on the Huffington Post, Upworthy and several parenting websites. Through Source Point Press he has published two of his most successful ongoing comic series; the supernatural thriller Touching Evil and the absurdist comedy Floppy Cop (with co-creator Seth Damoose).



His frequent collaborations with author DJ Corchin have yielded 11 children's books, all of which were acquired by Sourcebooks for publication. In 2020 they debuted their partnership with A Thousand No's, which rose to number one on the Barnes & Noble children's books list and enjoyed critical and commercial success. Their next release Do You Speak Fish? is set to be released in summer 2021.