Monstrous: European Getaway (Paperback)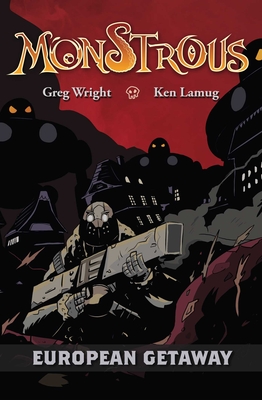 Description
---
It's not easy being a brain in a jar, but it's worse when you've been framed for murder!

Collecting the full European Getaway 4-issue miniseries! It's not easy being a steam-powered cyborg with your brain in a jar. But it's worse when you're framed for murdering Dr. Frankenstein! Throw in some detectives, bounty hunters, renegade mummies, giant robots, and the all-consuming insanity of an Ancient One, and a getaway becomes that much harder. Who's behind it all, and who will be left when it's all over?
About the Author
---
Greg Wright holds a Ph.D. in English from Michigan State University, and he has written several comic book series, including the pulp-fueled Wild Bullets, the steampunk mashup Monstrous, and the story of foul-mouthed, butt-kicking angels in Heaven's Rejects. He has also adapted the satirical fantasy Claim: A Song of Ire and Vice from the Deep Water Games throne-stealing card game, as well as the Holliston graphic novels, based on Adam Green's cult favorite horror sitcom on Shudder. His TABLOID! novel series follows a mother-daughter team of paranormal investigative journalists battling conspiracies, cryptids, and craziness.