Monstrous : Witch Hunt (Paperback)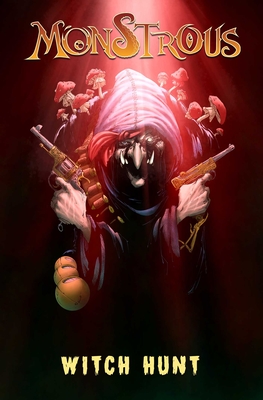 Description
---
The baddest witch in the world, Baba Yaga, has had her magic stolen! This horrifically dangerous lady goes on a globe-trotting adventure to get it back.

Everybody knows the baddest witch in the world is Baba Yaga. But she's a bit vulnerable since her magic was stolen. Now she's been recruited to go undercover and find a lost child she adopted from the woods years ago. But Baba Yaga will do some recruiting of her own, nabbing a steampunk inventor and a voodoo practitioner to fight ninjas, robots, and even... zombie llamas? It's a globe-hopping adventure filled with double-crosses, extremely violent nuns, and fantastic, action-packed magic from the toughest old Russian lady you've ever met!
About the Author
---
Greg Wright holds a Ph.D. in English from Michigan State University, and he has written several comic book series, including the pulp-fueled Wild Bullets, the steampunk mashup Monstrous, and the story of foul-mouthed, butt-kicking angels in Heaven's Rejects. He has also adapted the satirical fantasy Claim: A Song of Ire and Vice from the Deep Water Games throne-stealing card game, as well as the Holliston graphic novels, based on Adam Green's cult favorite horror sitcom on Shudder. His TABLOID! novel series follows a mother-daughter team of paranormal investigative journalists battling conspiracies, cryptids, and craziness.