The Shoreless Sea: Liminal Sky: Ariadne Cycle Book 3 (Hardcover)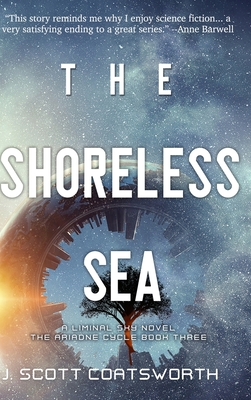 $34.99

Usually Arrives in 3-5 Days
Description
---
Rise of the Inthworld.
The fight for the future isn't over yet. It could lead to a new beginning, or it might spell the end for the last vestiges of humankind.
The generation ship Forever has left Earth behind, but a piece of the old civilization lives on in the Inthworld-a virtual realm that retains memories of Earth's technological wonders and vices. Lilith leads the uprising, and if she sets its inhabitants free, they could destroy Forever.
But during the ship's long voyage, humanity has evolved. Liminals with the ability to connect with the world mind and the Inthworld provide a glimmer of hope as they face not only Lilith's minions, but the mistrust of their own kind as homotypicals fear what they can't understand.
The invasion must be stopped, the Inthworld healed, sothe people of Forever can let go of their past and embrace their future.
"WOW ... The Shoreless Sea is a very satisfying conclusion to an epic three novel series featuring good hard science fiction, realistic world building, credible character development and interactions, all woven together in a compelling story.." --Two Gay Geeks