A Wonderful World: Memoirs (Paperback)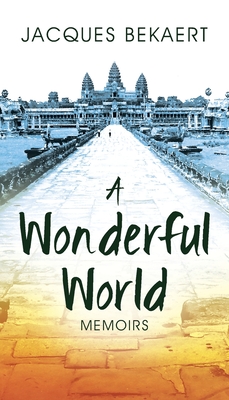 $22.95

Usually Arrives in 3-5 Days
(This book cannot be returned.)
Description
---
Born less than 24h after the invasion of his country by the German troops, the author as an innocent baby joined the sad exodus of Belgian and French civilians trying to escape fighting.
And the murderous bombing by the Stukas, a plane built to terrorize populations, tested during the Spanish Civil War, in Guernica.
He survived more bombings, the fall of a V1, an early visit by the Gestapo. He also experienced and the immense joy of the Liberation by British and American troops.
After a year in school he developed a passion for books, for reading and writing.
These were the pre-TV years. Thanks to a small radio he discovered music, all kinds of music, from classical to jazz, from Beethoven to John Cage.
He loved to travel, discovering new people, new food, new sounds. From Spain to the USA, from Australia to China.
As a journalist he worked for the Belgian radio and TV, for the BBC, Le Monde, the Bangkok Post, the Jane Defense weekly.
He went often to Vietnam and Cambodia, to Japan, Nepal, or Cuba.
Jacques Bekaert:
Studied musical composition in Basel with Henri Pousseur.
He married an American woman. They lived part time in the West Village of NYC, in Belgium, and finally in Thailand. After the death of his wife he became a diplomat in Cambodia and later Thailand.
Now retired in Bangkok, he writes articles about wine, travel and books in English and French, and composes music which is performed in many countries of Europe, Asia and America.