Letters to a Young Athlete (Paperback)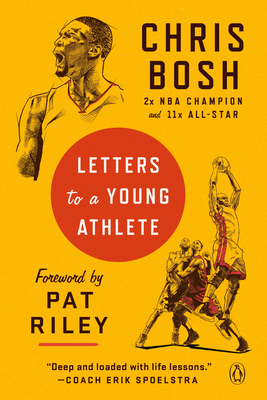 $18.00

On Our Shelves Now - May Be on Hold for Another Customer
Description
---
A legendary NBA player and beloved teammate shares his hard-earned wisdom about finding your true purpose and mastering your inner game, whatever that game might be.

Chris Bosh is on any list of the Top 100 NBA players of all time--an eleven-time All Star, two-time Finals winner, Olympic gold medalist, and currently the league's Global Ambassador. Always an uncommonly philosophical NBA star, he found himself needing all the mindfulness he could muster in 2017, when his career was cut short at its prime by a freak medical condition. Suddenly, he was thrown out of the work that had given so much more than just a livelihood, and had to think deeply about his identity in the world. This game had taught him so much; what could he make of it all?

Out of that place of deep reflection has emerged an uncommon book for a retired superstar to write. While it has the best elements of a memoir--the portraits of the great players and coaches, from LeBron and Kobe to Pat Riley and Coach K, and the accounts of extraordinary competitive moments--it is really a wisdom book, a blend of The Inner Game of Tennis, Wynton Marsalis's To a Young Jazz Musician, and Rilke's Letters to a Young Poet. It is rich with insight about basketball, but even richer with insight about life. It's a book about finding a purpose that is deep and real, not shallow and external, and about navigating success and failure as the twin mirages they are--pushing past fear, past ego, past fatigue to the pure flow of sustained accomplishment in a mesh with teammates who have given themselves to the same thing. Chris Bosh found that flow, and sustained it at the highest level. He misses basketball keenly still, but he has no regrets. Deep, honest, unflinching, this book is his friend's hand up to those coming up behind, whatever their pursuit might be.
About the Author
---
Chris Bosh fell in love with basketball at an early age and earned the prestigious "Mr. Basketball" title while still in high school (Lincoln High School) in Dallas, Texas. A McDonald's All-American, Bosh was selected fourth overall by the Toronto Raptors after one year attending Georgia Tech. By the end of his basketball career, he was an 11-time NBA All-Star, 2-time Champion and the NBA's first Global Ambassador of Basketball. In March of 2019, Bosh's #1 Jersey was officially retired for the Miami Heat, and he was inducted into the Naismith Memorial Basketball Hall of Fame in 2021. In addition to his basketball career, in 2010 Team Tomorrow was founded as a community-uplift organization. Bosh regularly speaks to youths about the benefits of reading, coding and leadership. Bosh, his wife Adrienne, and their five children reside in Austin, Texas.
Praise For…
---
"I highly recommend [Letters to a Young Athlete] if you have a kid interested in basketball or if you yourself want to know a little bit more about what it takes to become a champion in any aspect of your life." —Rachel Nichols, ESPN
 
"Chris Bosh, one of the smartest pro athletes of my life . . . goes deep on so many topics. . . . [Letters to a Young Athlete] is so smart, so thoughtful." —Colin Cowherd

"On the court, Chris Bosh was a rare superstar who put his team above himself. His book is a wise, candid look behind the scenes at what made him great and how he made others even greater. It should be required reading for up-and-coming athletes—and their parents, teachers, and coaches too." —Adam Grant, #1 New York Times bestselling author of Think Again and host of the TED podcast WorkLife

"CB was the ultimate teammate and competitor. As his coach, I learned so much about leadership, sacrifice, and persevering through great challenges and adversity. His basketball experiences are deep and loaded with life lessons. Whether you want to improve as an athlete or just gain more thoughtful perspective on this game of life, you will be inspired by this book!" —Coach Erik Spoelstra

"Letters to a Young Athlete is a thoughtful, helpful manual for aspiring athletes to follow. The strength of the individual is the team and the strength of the team is the individual. Chris Bosh says all that and more to young athletes." —Phil Jackson

"Chris Bosh understands the complex reality of becoming a champion, and his book will show you how to navigate those challenges and win." —Tim S. Grover