Guía rápida de las 33 estrategias de la guerra (Paperback)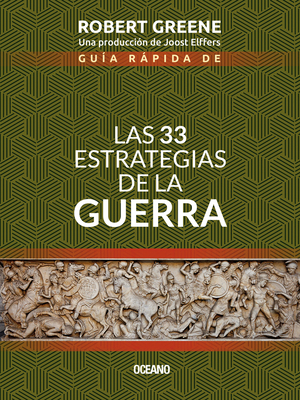 Description
---
En una realidad cada vez más competitiva y hostil, no basta con conocer las herramientas tradicionales de la cooperación, la comunicación y la civilidad. Como reza la paradójica sentencia, el que quiera paz deberá prepararse para la guerra. En la política, los negocios y buena parte de nuestras interacciones sociales, es el conflicto, interno y externo, el que rige la toma diaria de decisiones.

Current reality has become increasingly competitive and violent. Every day, at all hours and places, we are confronted with a ferocious antagonism that obliges us to be prepared not only to defend ourselves, but against those who would take advantage of us, all while conquering personal goals. With this in mind, the author puts within our reach the strategies that historical figures such as Julius Caesar, Napoleon Bonaparte, Winston Churchill, Frederick the Great, and Otto von Bismarck have adapted for a contemporary situation. The world of business, politics and life in general are composed of real battlefields that demand to be dealt with tactics, maneuvers and efficient plans. This concise guide summarizes the central ideas of The 33 Strategies of War, a book that delves into the minds of many of the leaders of the 21st century.
About the Author
---
Robert Greene is the author of the New York Times bestsellers The 48 Laws of Power and The 50th Law. Greene's books are hailed by everyone from the business sector to war historians to the biggest musicians in the industry. Greene attended U.C. Berkeley and the University of Wisconsin at Madison, where he received a degree in classical studies. He currently lives in Los Angeles.
Praise For…
---
"The need-to-know strategies that can also be used for 'winning the subtle social game of everyday life.'" —Business Insider on The 33 Strategies of War

"Greene's specialty is analyzing the lives and philosophies of historical figures like Sun Tzu and Napoleon, and extracting from them tips on how to manipulate people and situations—a cutthroat worldview that has earned him a devoted following among a like-minded readership of rappers, drug dealers and corporate executives." —The New York Times on The 33 Strategies of War