La sala de los espejos / In the Hall of Mirrors (Hardcover)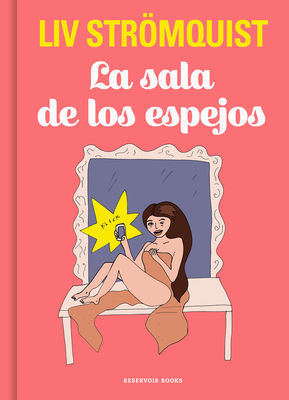 $25.95

Usually Arrives in 3-5 Days
Description
---
Tras el éxito de No siento nada, Strömquist se adentra en el tema del momento: la dictadura de la imagen en la era Instagram.
 
«Una autora imperdible». —Elle
 
«Cáustica y culta». —El País
 
¿Nos estamos convirtiendo en la madrastra de Blancanieves? En la era Instagram, nuestro espejo mágico es la pantalla y la belleza la dictaminan los likes. En La sala de los espejos, Liv Strömquist se pregunta hasta qué punto la dictadura de la imagen ha minado la relación con nuestros cuerpos. Siempre ácida e irreverente, la autora nos lleva del mito bíblico de Jacob hasta los motivos del éxito de influencers como Kylie Jenner o Kim Kardashian, pasando por la última sesión de fotos de Marilyn Monroe, la obsesión de la princesa Sissi por el ejercicio físico o el robo del busto de Nefertiti.
 
Strömquist nos regala un libro profundamente documentado en el que nos acompañan su trazo inimitable y las teorías de Susan Sontag o Eva Illouz para desentrañar el canon que nos esclaviza e intentar encontrar algo real entre tanto filtro.

ENGLISH DESCRIPTION

After the success of I Don't Feel Anything, Strömquist delves into the topic of the moment: the dictatorship of the image in the Instagram Era.
 
"An unmissable author." —Elle
 
"Fierce and cultured." —El País
 
Are we becoming Snow White's stepmother? In the Instagram Era, our magic mirror is the screen, and beauty is established by likes. In In the Hall of Mirrors, Liv Strömquist wonders to what extent the dictatorship of the image has undermined our relationship with our bodies. Always sharp and irreverent, the author takes us from the biblical myth of Jacob to the reasons for the success of influencers such as Kylie Jenner or Kim Kardashian and examines Marilyn Monroe's latest photo shoot, Princess Sissi's obsession with physical exercise, and even the theft of the bust of Nefertiti.
 
Strömquist gives us an exhaustively documented book where her inimitable drawing style and the theories of Susan Sontag or Eva Illouz come along to unravel the canon that enslaves us and to find something real among so many filters.

About the Author
---
Liv Strömquist (Lund, 1978) es una de las historietistas más prestigiosas de Suecia, así como una popular locutora de radio y televisión. Tras licenciarse en Ciencias Políticas, debutó en el mundo del cómic con Hundra procent fett (2005), al que siguieron, entre otros, Einsteins fru (2008), Prins Charles Känsla (2010), Ja till Liv (2011),El fruto prohibido (Reservoir Books, 2018) y Los sentimientos del Príncipe Carlos (Reservoir Books, 2019). Su último libro es No siento nada (Reservoir Books, 2021). Liv Strömquist es una firme activista del feminismo y las políticas de asilo. Suele publicar artículos en medios de gran difusión, como Trade New, Ordfront Magazine, Aftonbladet o Dagens Nyheter. En 2016 fue nombrada doctora honoris causa por la Universidad de Malmö. Actualmente trabaja para el Swedish Arts Council.