Harry Potter Y El Cáliz de Fuego. Edición Ilustrada / Harry Potter and the Goblet of Fire: The Illustrated Edition = Harry Potter and the Goblet of Fi (Hardcover)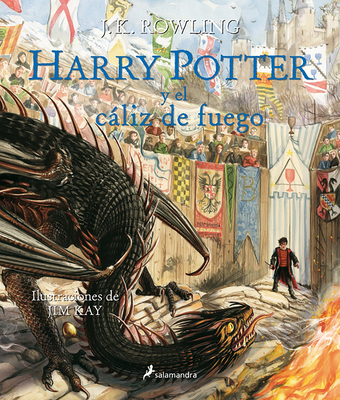 Email or call for price. 330-653-2252 or 1-800-968-2685 or books@learnedowl.com
Other Books in Series
This is book number 4 in the Harry Potter series.
Description
---
Preciosa edici n, ilustrada por Jim Kay, del cuarto volumen de la serie de Harry Potter. Un libro perfecto tanto para fans incondicionales como para nuevos lectores. Tras otro abominable verano con los Dursley, Harry se dispone a iniciar el cuarto curso en Hogwarts, la famosa escuela de magia y hechicer a.

A sus catorce a os, a Harry le gustar a ser un joven mago como los dem's y dedicarse a aprender nuevos sortilegios, encontrarse con sus amigos Ron y Hermione y asistir con ellos a los Mundiales de quidditch. Sin embargo, al llegar al colegio le espera una gran sorpresa que lo obligar a enfrentarse a los desaf os m's temibles de toda su vida. Si logra superarlos, habr demostrado que ya no es un ni o y que est preparado para vivir las nuevas y emocionantes experiencias que el futuro le depara. Jim Kay, ganador del premio Kate Greenaway, representa el mundo de los magos con gran detalle en esta edici n ilustrada del cuarto t tulo de la saga de J.K. Rowling. ENGLISH DESCRIPTION The fourth book in the beloved Harry Potter series, now illustrated in glorious full color by award-winning artist Jim Kay. Harry Potter wants to get away from the pernicious Dursleys and go to the International Quidditch Cup with Hermione, Ron, and the Weasleys. He wants to dream about Cho Chang, his crush (and maybe do more than dream). He wants to find out about the mysterious event involving two other rival schools of magic, and a competition that hasn't happened for a hundred years. He wants to be a normal, fourteen-year-old wizard. Unfortunately for Harry Potter, he's not normal - even by wizarding standards. And in this case, different can be deadly. With dazzling illustrations from Jim Kay, this new fully illustrated edition of the complete and unabridged text of Harry Potter and the Goblet of Fire is sure to delight fans and first-time readers alike.