Supply Chain Resilience: Reducing Vulnerability to Economic Shocks, Financial Crises, and Natural Disasters (Hardcover)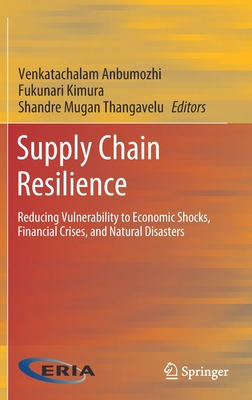 $219.99

Usually Arrives in 3-5 Days
Description
---
This book investigates individual companies' and industries' supply chain risk management approaches to identify risk drivers and verify effective risk-reduction measures and business continuity plans.
Typically, supply chain risk assessments focus on normative guidelines based on single best practice examples or vulnerability events, and there has been little work exploring how the concepts of supply chain risk management and resilience are related. However, since this relationship has implications for developing integrated response strategies, a clear understanding of the possible consequences is a fundamental step in building socio-economic resilience along the supply chain.
Against this background, the book addresses three main topics: firstly, it defines the conceptual and sectoral domains of supply chain risk management and resilience by examining the welfare effects of extreme weather events and other economic shocks on selected global supply chains. It then presents an in-depth analysis of the scope of public-private partnerships to tackle the risks, by empirically exploring supply chain risk effects and information management. Thirdly, it proposes a regional cooperation framework in the context of major supply chain vulnerability events such as disasters and global financial crises.
About the Author
---
Venkatachalam Anbumozhi is a Senior Economist at the Economic Research Institute for ASEAN and East Asia (ERIA), Indonesia. He has published widely on natural resource management, climate-friendly infrastructure design, and private sector participation in green growth. He was invited as a member of the APEC Expert Panel on Green Climate Finance and the ASEAN Panel for promoting climate-resilient growth. He has taught courses on resource management, international cooperation, and development finance. Fukunari Kimura has been a Professor at the Faculty of Economics, Keio University, Tokyo, Japan since 2000 and Chief Economist at the Economic Research Institute for ASEAN and East Asia (ERIA) since 2008. His major research interest is in international trade and development economics. In particular, he has recently been active in writing on international production networks and economic integration in East Asia. Shandremugan Thangavelu is Associate Professor and Regional Director (Southeast Asia) at the Centre for International Economic Studies, Institute of International Trade at the University of Adelaide, Australia. He is an active researcher on human capital development, technology transfer, foreign direct investment, trade, government infrastructure investment, productivity and economic growth.