You Ruined My Life and You Stole My Bra: a Mother/Daughter Love Story (Paperback)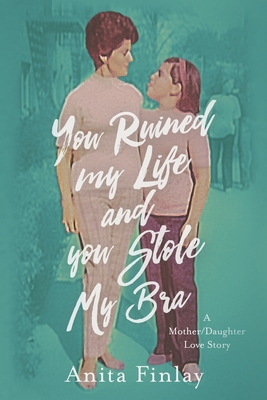 $15.95

Usually Arrives in 3-5 Days
(This book cannot be returned.)
Description
---
PUBLISHER'S WEEKLY: "Finlay delivers a poignant ode to her late mother in this aptly titled memoir...a funny, moving testament to a thorny mother-daughter bond."
An INDIEREADER pick of the month: "Finlay lays bare the intricate web of expectations, insecurities, and assumptions that lie at the heart of so many parent-child relationships; and she tells them in a narrative that is by turns funny, engrossing, and touching."
YOU RUINED MY LIFE AND YOU STOLE MY BRA is the moving yet often hilarious memoir of a woman who found a most unlikely way to heal her relationship with her mercurial mother.
Despite her best efforts to sidestep landmines in a turbulent household, Anita grew up fighting. She spent as much time defending her hard-working mother to a brilliant but abusive father as she did defending herself from her mom's criticism. Finally cobbling together a joyful life, Anita feared that becoming her mother's mother would ruin the paradise she'd struggled to build. But with the clock ticking ever faster, she ached to make peace with her beloved mom before losing her. Careening down the bumpy road of elder care while revisiting pivotal life events, Anita unearthed the reasons for their many battles, determined to lay to rest the demons that had haunted her most of her adult life.
YOU RUINED MY LIFE AND YOU STOLE MY BRA is a candid, insightful, entertaining touchstone not only for dealing with-and honoring-an elderly parent, but for digging deep to find forgiveness, empowerment and closure.
Review from Soledad O'Brien: "Loved Anita Finlay's book, YOU RUINED MY LIFE AND YOU STOLE MY BRA.
She captures the humor, the chaos and the conflict of a mother/daughter relationship. Anita's mom was a character Tough and funny, difficult but loving. Anita's journey as her mother ages-and she contemplates their long relationship-is
a wonderful, hilarious and sometimes heartbreaking read."