The Hormone Reset Diet: 100 Delicious Recipes to Help You Reset Your Hormones and Lose Weight Fast (Paperback)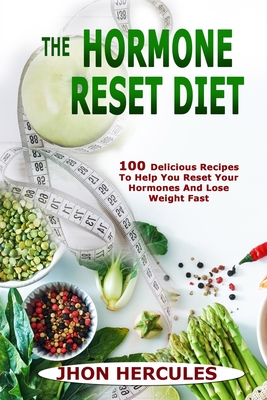 Description
---
The Hormone Reset Diet is a diet plan specifically designed for women during menopause. It aims to reduce the symptoms of menopause and to help get back into shape. It is a six-week diet plan that "resets" your hormones in a way that helps to alleviate many symptoms, such as hot flashes, low libido, fatigue, sleeplessness, mood swings and depression. The hormones in your body are responsible for many things - one of these is weight gain. Weight gain is actually caused by a hormone imbalance: too much estrogen and not enough progesterone. By creating the right balance of hormones, you can lose weight.

The Hormone Reset Diet is mainly a low-carb diet, but not a no-carb diet. You can have up to 12 servings of carbohydrates per day and you're allowed to have as much protein as you want throughout the day. For example, breakfast could be a small bowl of small oats, lunch could be two eggs and an apple and dinner could be grilled chicken breast with a plain green salad with olive oil dressing. Snacks in between meals are recommended to keep your metabolism up throughout the day.
The Hormone Reset Diet allows you consume plain full-fat yogurt, butter, cream, coconut oil and coconut milk. Meals are also served with leafy green salad or vegetables and fruit. The diet also recommends consuming plenty of water throughout the day to keep you hydrated.
This book contains:

Breakfast

Mains

Chicken & Poultry Recipes

Beef, Pork, and Lamb Recipes
Fish and Seafood Recipes
And much more
You can lose up to 10 pounds in one month by following the Hormone Reset Diet. In many cases, women have reported that they lost even more than just 10 pounds. This is because the vitamins and minerals in the food create a metabolism that helps you to burn fat faster without gaining muscle.
The Hormone Reset Diet focuses on helping women get back into shape by helping them lose weight and increase their energy level. It also helps to relieve the negative symptoms of menopause. For example, hot flashes and night sweats can be relieved by following the Hormone Reset Diet. In addition to this, women will have more energy during the day and they will be able to sleep better at night. They will also have more confidence due to a higher sex drive.
The Hormone Reset Diet is recommended for women in their 50s or older who are going through menopause. After age 50, women begin to experience a decline in many hormones that leads to weight gain and problems with sleeping. The Hormone Reset Diet helps to fix these symptoms through diet and exercise.
There are several things to keep in mind before starting the Hormone Reset Diet. First of all, you should have a doctor's consultation to ensure that you do not have any medical conditions or health problems that could worsen by following this diet plan. In addition to this, you should be aware that there are many nutrients in food like B6, B12 and iron that can be found in abundance without eating meat.